Our House Saints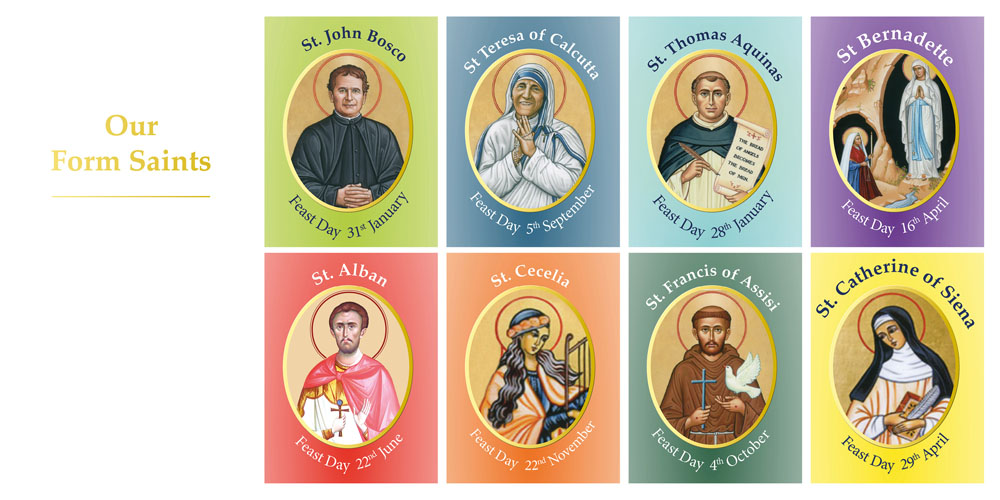 This year we are celebrating our 30th year anniversary under the patronage of Blessed John Henry Newman, and as such, we have introduced new form names which means that pupils will retain their association with the same patron saint throughout their school journey. Each tutor group is named after one of our house saints, and we continue to explore ways in which we can use this structure to build a closer sense of community and awareness of our inspiring Catholic leaders.
Biographies and image credits:catholic.org
St John Bosco, patron saint of young people, apprentices and pupils

'We do not go to Holy Communion because we are good; we go to become good.'
John Bosco, also known as Giovanni Melchiorre Bosco and Don Bosco, was born in Becchi, Italy, on August 16.
At the age of two, John lost his father, leaving him and his two older brothers to be raised by his mother, Margherita. John attended church and became very devout. When he was not in church, he helped his family grow food and raise sheep. They were very poor, but despite their poverty his mother also found enough to share with the homeless who sometimes came to the door seeking food, shelter or clothing.
When John was nine years old, he had the first of several vivid dreams that would influence his life. In his dream, he encountered a multitude of boys who swore as they played. Among these boys, he encountered a great, majestic man and woman. The man told him that in meekness and charity, he would "conquer these your friends." Then a lady, also majestic said, "Be strong, humble and robust. When the time comes, you will understand everything." This dream influenced John the rest of his life.
Not long afterwards, John witnessed a traveling troupe of circus performers. He was enthralled by their magic tricks and acrobatics. He realized if he learned their tricks, he could use them to attract others and hold their attention. He studied their tricks and learned how to perform some himself.
One Sunday evening, John staged a show for the kids he played with and was heartily applauded. At the end of the show, he recited the homily he heard earlier in the day. He ended by inviting his neighbours to pray with him. His shows and games were repeated and during this time, John became aware of his call to become a priest.
To be a priest, John required an education, something he lacked because of poverty. However, he found a priest willing to provide him with some teaching and a few books. John's older brother became angry at this apparent disloyalty, and he reportedly whipped John saying he's "a farmer like us!" John was undeterred, and as soon as he could he left home to look for work as a hired farm laborer. He was only 12 when he departed, a decision hastened by his brother's hostility.
John had difficulty finding work, but managed to find a job at a vineyard. He labored for two more years before he met Jospeh Cafasso, a priest who was willing to help him. In 1835, John entered the seminary and following six years of study and preparation, he was ordained a priest in 1841.
His first assignment was to the city of Turin. The city was in the throes of industrialization so it had slums and widespread poverty. It was into these poor neighbourhoods that John, now known as Fr. Bosco, went to work with the children of the poor.
While visiting the prisons, Fr. Bosco noticed a large number of boys, between the ages of 12 and 18, inside. The conditions were deplorable, and he felt moved to do more to help other boys from ending up there. He went into the streets and started to meet young men and boys where they worked and played. He used his talents as a performer, doing tricks to capture attention, then sharing with the children his message for the day.
When he was not preaching, Fr. Bosco worked tirelessly seeking work for boys who needed it, and searching for lodgings for others. His mother began to help him, and she became known as "Mamma Margherita." By the 1860s, Fr. Bosco and his mother were responsible for lodging 800 boys.
Fr. Bosco also identified boys he thought would make good priests and encouraged them to consider a vocation to the priesthood. Then, he helped to prepare those who responded favourably in their path to ordination.
In 1859, Fr. Bosco established the Society of St. Francis de Sales. He organized 15 seminarians and one teenage boy into the group. Their purpose was to carry on his charitable work, helping boys with their faith formation and to stay out of trouble. The organization still exists today and continues to help people, especially children around the world.
Saint John Bosco is the patron saint of apprentices, editors and publishers, schoolchildren, and magicians. His feast day is on January 31.
St Thomas Aquinas, patron saint of teachers, schools and philosophers

'Wonder is the desire for knowledge. Love takes up where knowledge leaves off…'
Thomas is believed to have been born in the castle of Roccasecca, now known as the Lazio region of Italy, in 1225. His parents were well-off, but as the youngest son Thomas was expected to enter the monastery.
It is believed that Thomas was introduced to his philosophical influences - Aristotle, Averroes, and Maimonides - at university, where he also met John of St. Julian, a Dominican preacher, who influenced him to join the recently founded Dominican Order.
Thomas' family were not at all pleased with his decion. When his mother Theodora learned of his intention, she arranged for him to be moved to Paris. When Thomas was travelling to Rome, his brothers captured him and returned him to their parents at the castle of Monte San Giovanni Campano.
Thomas was held captive in the castle for one year as his family tried to keep him from joining the Dominican Order. In the year he was held, Thomas tutored his sisters and communicated with members of the Dominican Order.
When Theodora realized she could not sway her son, she tried to 'preserve the family name' by arranging for his escape through a window. She believed a secret escape was better than appearing to accept his decision to join the Dominican Order.
Following his escape in 1244, Thomas turned to Naples, then to Rome. The next year, Thomas went to study at the Faculty of the Arts at the University of Paris.
Thomas was quiet and seldom spoke at the university, leading other students to believe he was mentally delayed, but Mangus, a Dominican scholar prophetically said, "You call him the dumb ox, but in his teaching, he will one day produce such a bellowing that it will be heard throughout the world."
Following the conclusion of his education, Thomas taught in Cologne as an apprentice professor and instructed students on the books of the Old Testament. He later completed his master's degree in theology in Paris. As an apprentice professor, he lectured on the Bible and was later appointed regent master in theology, where he spent his tenure writing several famous works including Summa contra Gentiles.
In 1259, Thomas returned to Naples, where he was appointed general preacher. Six years later, he was summoned to Rome to serve as the papal theologian and was later ordered by the Dominican Chapter of Agnani to teach at the studium conventuale, which was the first school to teach the full range of philosophical subjects of both moral and natural natures.
He continued to write and released several more books until 1268, when he was called to Paris for a second teaching regency. At the conclusion of his regency, the Dominicans called Thomas to establish a university wherever he wanted with a staff of whomever he wished. He established the university in Naples and took the regent master post.
In 1273 Thomas was seen by the sacristan Domenic of Caserta to be crying and levitating in prayer before an icon of the crucified Christ at the Dominican convent of Naples, in the Chapel of Saint Nicholas.
During this prayer, Christ is said to have told him, "You have written well of me, Thomas. What reward would you have for your labor?"
Thomas replied, "Nothing but you, Lord."
Following this exchange, something happened but Thomas never wrote or spoke of it. He abandoned his routine and, when begged to return to work, replied, "I cannot, because all that I have written seems like straw to me."
.Thomas died on March 7, 1274.
Saint Thomas' comments and philosophical writings are still debated today, and his aesthetic theories, such as the concept of claritas, deeply influenced the literary writings of James Joyce and Italian semiotician Umberto Eco.
A Student's Prayer by St. Thomas
Come, Holy Spirit, Divine Creator, true source of light and fountain of wisdom! Pour forth your brilliance upon my dense intellect, dissipate the darkness which covers me, that of sin and of ignorance.
Grant me a penetrating mind to understand, a retentive memory, method and ease in learning, the lucidity to comprehend, and abundant grace in expressing myself. Guide the beginning of my work, direct its progress, and bring it to successful completion.
This I ask through Jesus Christ, true God and true man, living and reigning with You and the Father, forever and ever
St Alban, patron saint of converts and refugees

'I worship and adore the true and living God, who created all things'
St. Alban was the first martyr of England. During a persecution of Christians, Alban, though a pagan, hid a priest in his house. The priest made such a great impression on him that Alban received instructions and became a Christian himself.
In the meantime, the governor had been told that the priest was hiding in Alban's house, and he sent his soldiers to capture him. But Alban changed clothes with his guest, and gave himself up in his stead. The judge was furious when he found out that the priest had escaped and he said to Alban, "You shall get the punishment he was to get unless you worship the gods." The Saint answered that he would never worship those false gods again. "To what family do you belong?" demanded the judge. "That does not concern you," said Alban. "If you want to know my religion, I am a Christian." Angrily the judge commanded him again to sacrifice to the gods at once. "Your sacrifices are offered to devils," answered the Saint. "They cannot help you or answer your requests. The reward for such sacrifices is the everlasting punishment of Hell."
Since he was getting nowhere, the judge had Alban whipped. Then he commanded him to be beheaded. On the way to the place of execution, the soldier who was to kill the Saint was converted himself, and he too, became a martyr.
St Francis, patron saint of animals and ecology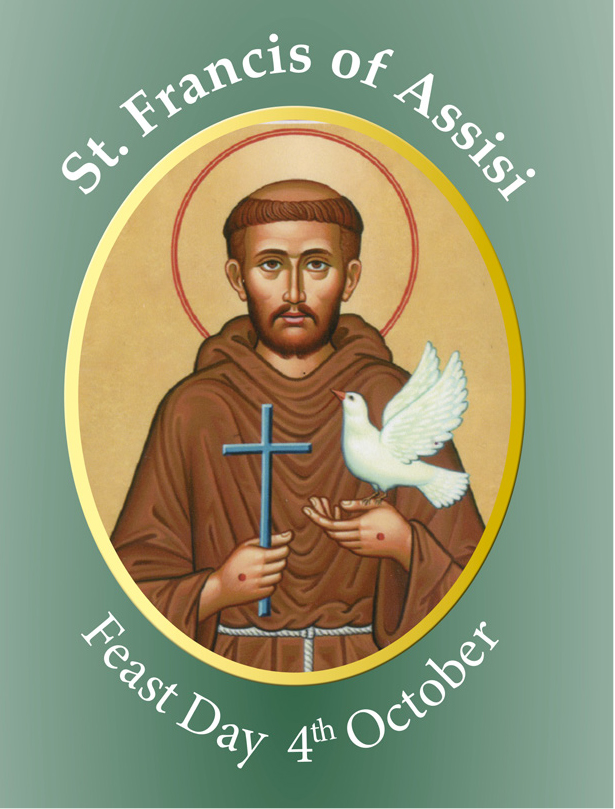 'If God can work through me, he can work through anyone.'
In 1182, Pietro Bernardone returned from a trip to France to find out his wife had given birth to a son. Far from being excited or apologetic because he'd been gone, Pietro was furious because she'd had his new son baptized Giovanni after John the Baptist. The last thing Pietro wanted in his son was a man of God -- he wanted a man of business, a cloth merchant like he was, and he especially wanted a son who would reflect his infatuation with France. So he renamed his son Francesco -- which is the equivalent of calling him Frenchman.
Francis enjoyed a very rich easy life growing up because of his father's wealth and the permissiveness of the times. From the beginning everyone loved Francis. He was constantly happy, charming, and a born leader. If he was picky, people excused him. If he was ill, people took care of him. If he was so much of a dreamer he did poorly in school, no one minded. In many ways he was too easy to like for his own good. No one tried to control him or teach him.
As he grew up, Francis became the leader of a crowd of young people who spent their nights in wild parties. Francis himself said, "I lived in sin" during that time.
Francis fulfilled every hope of his father -- even falling in love with France. He loved the songs of France, the romance of France, and especially the free adventurous troubadours of France who wandered through Europe. And despite his dreaming, Francis was also good at business. But Francis wanted more..more than wealth. But not holiness! Francis wanted to be a noble, a knight. Battle was the best place to win the glory and prestige he longed for. He got his first chance when Assisi declared war on their longtime enemy, the nearby town of Perugia.
Most of the troops from Assisi were butchered in the fight. Only those wealthy enough to expect to be ransomed were taken prisoner. At last Francis was among the nobility like he always wanted to be...but chained in a harsh, dark dungeon. All accounts say that he never lost his happy manner in that horrible place. Finally, after a year in the dungeon, he was ransomed. Strangely, the experience didn't seem to change him. He gave himself to partying with as much joy and abandon as he had before the battle.
The experience didn't change what he wanted from life either: Glory. Finally a call for knights for the Fourth Crusade gave him a chance for his dream. But before he left Francis had to have a suit of armor and a horse -- no problem for the son of a wealthy father. And not just any suit of armor would do but one decorated with gold with a magnificent cloak. Although he gave the cloak to a poor knight there were boasts that he would return a prince.
But Francis never got farther than one day's ride from Assisi. There he had a dream in which God told him he had it all wrong and told him to return home. And return home he did. What must it have been like to return without ever making it to battle -- the boy who wanted nothing more than to be liked was humiliated, laughed at, called a coward by the village and raged at by his father for the money wasted on armor.
Francis' conversion did not happen over night. God had waited for him for twenty-five years and now it was Francis' turn to wait. Francis started to spend more time in prayer. He went off to a cave and wept for his sins. Sometimes God's graceoverwhelmed him with joy. But life couldn't just stop for God. There was a business to run, customers to wait on.
One day while riding through the countryside, Francis, the man who loved beauty, who was so picky about food, who hated deformity, came face to face with a leper. Repelled by the appearance and the smell of the leper, Francis nevertheless jumped down from his horse and kissed the hand of the leper. When his kiss of peace was returned, Francis was filled with joy. As he rode off, he turned around for a last wave, and saw that the leper had disappeared. He always looked upon it as a test from God...that he had passed.
His search for conversion led him to the ancient church at San Damiano. While he was praying there, he heard Christ on the crucifix speak to him, "Francis, repair my church." Francis assumed this meant church with a small c -- the crumbling building he was in. Acting again in his impetuous way, he took fabric from his father's shop and sold it to get money to repair the church. His father saw this as an act of theft -- and put together with Francis' cowardice, waste of money, and his growing disinterest in money made Francis seem more like a madman than his son. Pietro dragged Francis before the bishop and in front of the whole town demanded that Francis return the money and renounce all rights as his heir.
The bishop was very kind to Francis; he told him to return the money and said God would provide. That was all Francis needed to hear. He not only gave back the money but stripped off all his clothes -- the clothes his father had given him -- until he was wearing only a hair shirt. In front of the crowd that had gathered he said, "Pietro Bernardone is no longer my father. From now on I can say with complete freedom, 'Our Father who art in heaven.'" Wearing nothing but castoff rags, he went off into the freezing woods -- singing. And when robbers beat him later and took his clothes, he climbed out of the ditch and went off singing again. From then on Francis had nothing...and everything.
Francis went back to what he considered God's call. He begged for stones and rebuilt the San Damiano church with his own hands, not realizing that it was the Church with a capital C that God wanted repaired. Scandal and avarice were working on the Church from the inside while outside heresies flourished by appealing to those longing for something different or adventurous.
Soon Francis started to preach. (He was never a priest, though he was later ordained a deacon under his protest.) Francis was not a reformer; he preached about returning to God and obedience to the Church. Francis must have known about the decay in the Church, but he always showed the Church and its people his utmost respect. When someone told him of a priest living openly with a woman and asked him if that meant the Mass was polluted, Francis went to the priest, knelt before him, and kissed his hands -- because those hands had held God.
Slowly companions came to Francis, people who wanted to follow his life of sleeping in the open, begging for garbage to eat...and loving God. With companions, Francis knew he now had to have some kind of direction to this life so he opened the Bible in three places. He read the command to the rich young man to sell all his good and give to the poor, the order to the apostles to take nothing on their journey, and the demand to take up the cross daily. "Here is our rule," Francis said -- as simple, and as seemingly impossible, as that. He was going to do what no one thought possible any more -- live by the Gospel. Francis took these commands so literally that he made one brother run after the thief who stole his hood and offer him his robe!
Francis never wanted to found a religious order -- this former knight thought that sounded too military. He thought of what he was doing as expressing God's brotherhood. His companions came from all walks of life, from fields and towns, nobility and common people, universities, the Church, and the merchant class. Francis practiced true equality by showing honor, respect, and love to every person whether they were beggar or pope.
Francis' brotherhood included all of God's creation. Much has been written about Francis' love of nature but his relationshipwas deeper than that. We call someone a lover of nature if they spend their free time in the woods or admire its beauty. But Francis really felt that nature, all God's creations, were part of his brotherhood. The sparrow was as much his brother as the pope.
In one famous story, Francis preached to hundreds of birds about being thankful to God for their wonderful clothes, for their independence, and for God's care. The story tells us the birds stood still as he walked among him, only flying off when he said they could leave.
Another famous story involves a wolf that had been eating human beings. Francis intervened when the town wanted to kill the wolf and talked the wolf into never killing again. The wolf became a pet of the townspeople who made sure that he always had plenty to eat.
Following the Gospel literally, Francis and his companions went out to preach two by two. At first, listeners were understandably hostile to these men in rags trying to talk about God's love. People even ran from them for fear they'd catch this strange madness! And they were right. Because soon these same people noticed that these barefoot beggars wearing sacks seemed filled with constant joy. They celebrated life. And people had to ask themselves: Could one own nothing and be happy? Soon those who had met them with mud and rocks, greeted them with bells and smiles.
Francis did not try to abolish poverty, he tried to make it holy. When his friars met someone poorer than they, they would eagerly rip off the sleeve of their habit to give to the person. They worked for all necessities and only begged if they had to. But Francis would not let them accept any money. He told them to treat coins as if they were pebbles in the road. When the bishop showed horror at the friars' hard life, Francis said, "If we had any possessions we should need weapons and laws to defend them." Possessing something was the death of love for Francis. Also, Francis reasoned, what could you do to a man who owns nothing? You can't starve a fasting man, you can't steal from someone who has no money, you can't ruin someone who hates prestige. They were truly free.
Francis was a man of action. His simplicity of life extended to ideas and deeds. If there was a simple way, no matter how impossible it seemed, Francis would take it. So when Francis wanted approval for his brotherhood, he went straight to Rome to see Pope Innocent III who through him out. But when the Pope had a dream that this tiny man in rags held up the tilting Lateran basilica, he quickly called Francis back and gave him permission to preach.
Francis' final years were filled with suffering as well as humiliation. Praying to share in Christ's passion he had a vision received the stigmata, the marks of the nails and the lance wound that Christ suffered, in his own body.
Years of poverty and wandering had made Francis ill. When he began to go blind, the pope ordered that his eyes be operated on. This meant cauterizing his face with a hot iron. How did Francis respond to blindness and suffering? That was when he wrote his beautiful Canticle of the Sun that expresses his brotherhood with creation in praising God.
Francis never recovered from this illness. He died on October 4, 1226 at the age of 45. Francis is considered the founder of all Franciscan orders and the patron saint of ecologists and merchants.
St Teresa of Calcutta, patron saint of World Youth Day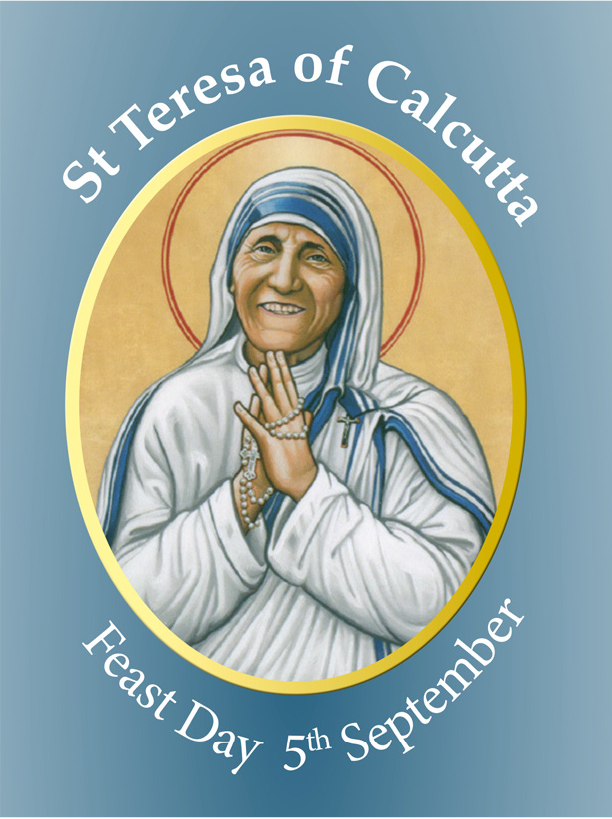 'If you want to change the world, go home and love your family'
Mother Teresa was born Agnes Gonxha Bojaxhiu in Skopje, Macedonia, on 26th August 1910. Her family was of Albanian descent. At the age of twelve, she felt strongly the call of God. She knew she had to be a missionary to spread the love of Christ. At the age of eighteen she left her parental home in Skopje and joined the Sisters of Loreto, an Irish community of nuns with missions in India. After a few months of training in Dublin she was sent to India, where on May 24, 1931, she took her initial vows as a nun. From 1931 to 1948 Mother Teresa taught at St. Mary's High School in Calcutta, but the suffering and poverty she glimpsed outside the convent walls made such a deep impression on her that in 1948 she received permission from her superiors to leave the convent school and devote herself to working among the poorest of the poor in the slums of Calcutta.
Although she had no funds, she started an open-air school for slum children. Soon she was joined by voluntary helpers, and financial support was also forthcoming. This made it possible for her to extend the scope of her work.
On October 7, 1950, Mother Teresa received permission from the Pope to start her own order, "The Missionaries of Charity", whose primary task was to love and care for those persons nobody was prepared to look after.
The Society of Missionaries has spread all over the world, including the former Soviet Union and Eastern European countries. They provide effective help to the poorest of the poor in a number of countries in Asia, Africa and Latin America, and they undertake relief work in the wake of natural catastrophes such as floods, epidemics and famine as well as supporting refugees. The order also has houses in North America, Europe and Australia, where they take care of the 'shut-in', alcoholics, homeless, and AIDS sufferers.
Mother Teresa's work has been recognised and acclaimed throughout the world and she has received a number of awards and distinctions. Mother Teresa died on 5th September 1997.
"Being unwanted, unloved, uncared for, forgotten by everybody: I think that is a much greater hunger, a much greater poverty than the person who has nothing to eat."

Mother Teresa
St Bernadette, patron saint of Lourdes, the ill, and shepherds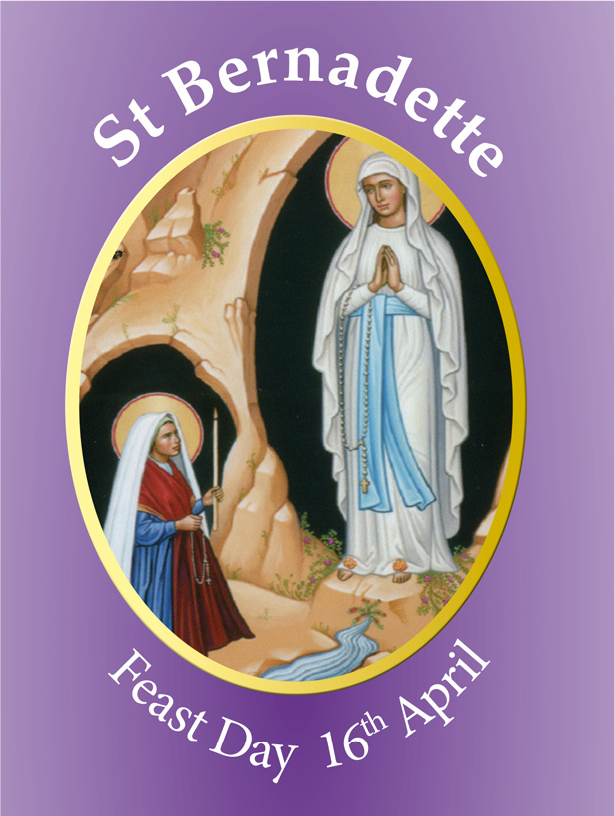 'If a dream should fall and break, never be afraid to pick yourself up and begin again.'
St. Bernadette was born in Lourdes, France on January 7, 1844. Her parents were very poor and she was the first of nine children. As a toddler, Bernadette contracted cholera and suffered extreme asthma. Unfortunately, she lived the rest of her life in poor health.
On Thursday, February 11, 1858, fourteen-year-old Bernadette was sent with her younger sister and a friend to gather firewood, when a very beautiful lady appeared to her above a rose bush in a grotto called Massabielle (Tuta de Massavielha).
The woman wore blue and white and smiled at Bernadette before making the sign of the cross with a rosary of ivory and gold. Bernadette fell to her knees, took out her own rosary and began to pray. Bernadette later described the woman as "uo petito damizelo," meaning "a small young lady. Though her sister and friend claimed they were unable to see her, Bernadette knew what she saw was real.
Three days later, Bernadette, her sister Marie, and other girls returned to the grotto, where Bernadette immediately knelt, saying she could see "aquero" again. She fell into a trance and one girl threw holy water at the niche and another threw a rock that shattered on the ground. It was then that the apparition disappeared.
On February 18, Bernadette said "the vision" asked her to return to the grotto each day for a fortnight. With each visit, Bernadette saw the Virgin Mary and the period of daily visions became known as "la Quinzaine sacrée," meaning "holy fortnight."
When Bernadette began to visit the grotto, her parents were embarrassed and attempted to stop her, but were unable to do so. On February 25, Bernadette claimed to have had a life-changing vision.
The vision had told her "to drink of the water of the spring, to wash in it and to eat the herb that grew there" as an act of penance. The next day, the grotto's muddy waters had been cleared and fresh clear water flowed.
On March 2, at the thirteenth of the apparitions, Bernadette told her family the lady sad "a chapel should be built and a procession formed."
During her sixteenth vision, which Bernadette claims to have experienced for over an hour, was on March 25. Bernadette claimed she had asked the woman her name, but her question was only met with a smile. Bernadette asked again, three more times, and finally the woman said, "I am the Immaculate Conception."
Though many townspeople believed she had indeed been seeing the Holy Virgin, Bernadette's story created a division in her town. Many believed she was telling the truth, while others believed she had a mental illness and demanded she be put in a mental asylum. Some believed Bernadette's visions meant she needed to pray for penance.
Church authorities and the French government rigorously interviewed the girl, and by 1862 they confirmed she spoke truth. Since Bernadette first caused the spring to produce clean water, 69 cures have been verified by the Lourdes Medical Bureau, and after what the Church claimed were "extremely rigorous scientific and medical examinations," no one was able to explain what caused the cures.
The Lourdes Commission that initially examined Bernadette, ran an analysis on the water but were only able to determine it contained a high mineral content. Bernadette believed it was faith and prayer that was responsible for curing the sick.
Bernadette asked the local priest to build a chapel at the site of her visions and the Sanctuary of Our Lady of Lourdes is now one of the major Catholic pilgrimage sites in the world. Many other chapels and churches has been built around it, including the Basilica of St. Pius X, which can accommodate 25,000 people and was dedicated by the future Pope John XXIII when he was the Papal Nuncio to France.
Following the miracles and constructions, Bernadette decided she did not like the attention she was getting and went to the hospice school run by the Sisters of Charity of Nevers, where she was taught to read and write. Though she considered joining the Carmelites, her health was too fragile.
On July 29, 1866, Bernadette joined the Sisters of Charity at their motherhouse at Nevers. Bernadette spent the rest of her life there working as an infirmary assistant, and later a sacristan. People admired her humility and spirit of sacrifice. Once a nun asked her if she had temptations of pride because she was favored by the Blessed Mother. "How can I?" she answered quickly. "The Blessed Virgin chose me only because I was the most ignorant."
Unfortunately, she was diagnosed with tuberculosis of the bone in her right knee and was unable to take part in convent life. She died in the Sainte Croix (Holy Cross) Infirmary of the Convent of Saint-Gildard at the age of 35 on April 16, 1879, while praying the holy rosary.
St Cecilia, patron saint of musicians, singers and students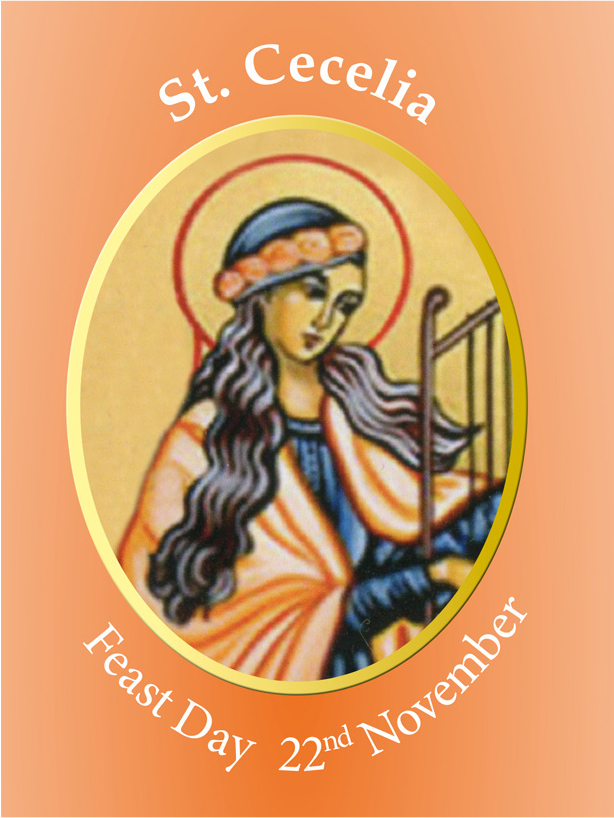 'To take up Christ is not to sacrifice one's youth, but to renew it.'
The story of St. Cecilia is not without beauty or merit. She is said to have been quite close to God and prayed often:
In the city of Rome there was a virgin named Cecilia, who came from an extremely rich family and was given in marriage to a youth named Valerian. She wore sackcloth next to her skin, fasted, and invoked the saints, angels, and virgins, beseeching them to guard her virginity
During her wedding ceremony she was said to have sung in her heart to God and before the consummation of her nuptials, she told her husband she had taken a vow of virginity and had an angel protecting her. Valerian asked to see the angel as proof, and Cecilia told him he would have eyes to see once he traveled to the third milestone on the Via Appia (Appian Way) and was baptized by Pope Urbanus.
Following his baptism, Valerian returned to his wife and found an angel at her side. The angel then crowned Cecilia with a chaplet of rose and lily and when Valerian's brother, Tibertius, heard of the angel and his brother's baptism, he also was baptized and together the brothers dedicated their lives to burying the saints who were murdered each day by the prefect of the city, Turcius Almachius.
Both brothers were eventually arrested and brought before the prefect where they were executed after they refused to offer a sacrifice to the gods.
As her husband and brother-in-law buried the dead, St. Cecilia spent her time preaching and in her lifetime was able to convert over four hundred people, most of whom were baptized by Pope Urban.
Cecilia was later arrested and condemned to be suffocated in the baths. She was shut in for one night and one day, as fires were heaped up and stoked to a terrifying heat - but Cecilia did not even sweat.
When Almachius heard this, he sent an executioner to cut off her head in the baths.
The executioner struck her three times but was unable to decapitate her so he left her bleeding and she lived for three days. Crowds came to her and collected her blood while she preached to them or prayed. On the third day she died and was buried by Pope Urban and his deacons.
St. Cecilia is regarded as the patroness of music, because she heard heavenly music in her heart when she was married, and is represented in art with an organ or organ-pipes in her hand.
St Catherine of Siena, patron saint of Europe, firefighters and nurses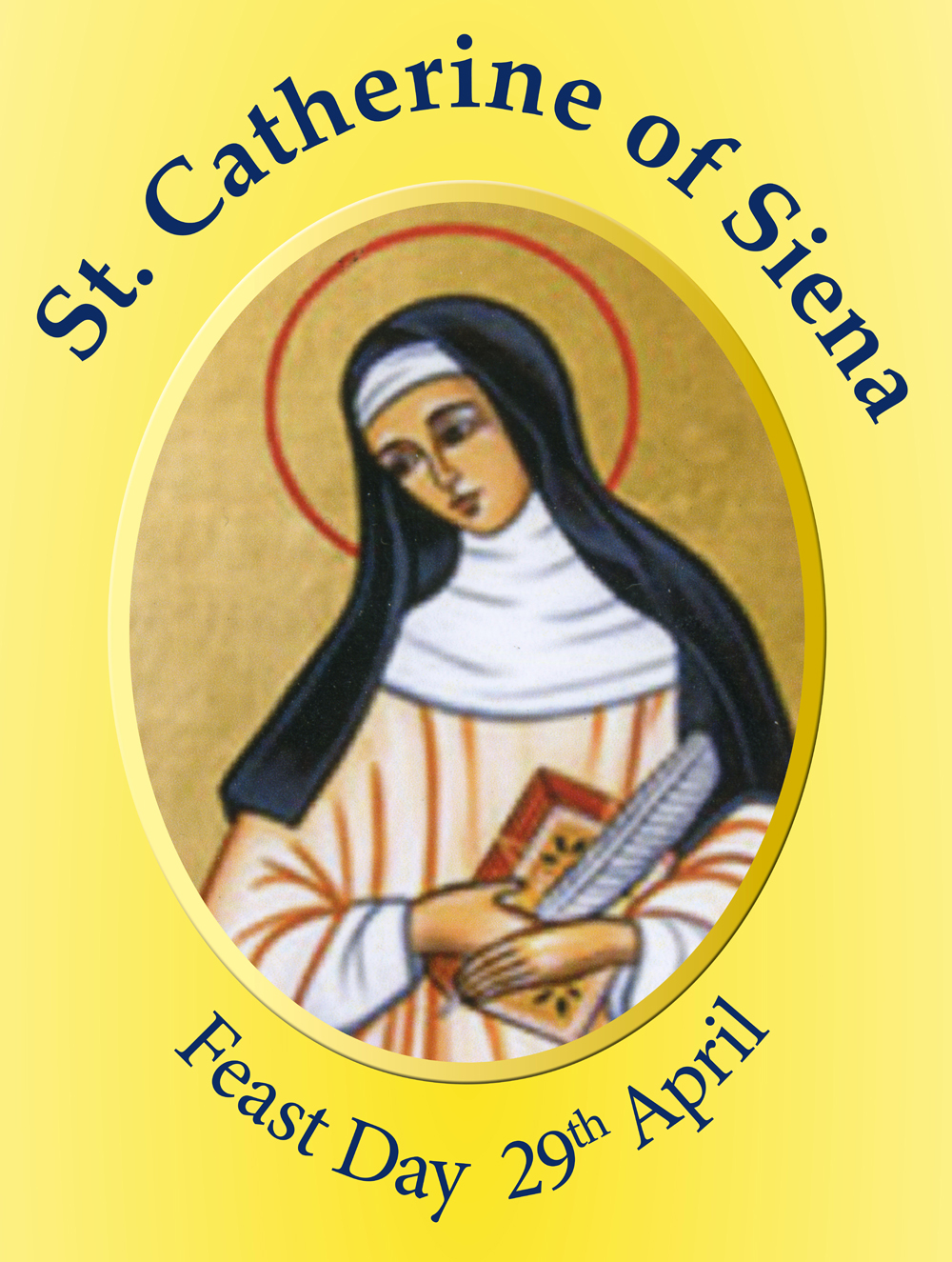 'Be who God meant you to be and you will set the world on fire'
St. Catherine of Siena was born during the outbreak of the plague in Siena, Italy on March 25, 1347. She was the 25th child born to her mother, although half of her brothers and sisters did not survive childhood. Catherine herself was a twin, but her sister did not survive infancy. Her mother was 40 when she was born. Her father was a cloth dyer.
At the age of 16, Catherine's sister, Bonaventura, died, leaving her husband as a widower. Catherine's parents proposed that he marry Catherine as a replacement, but Catherine opposed this. She began fasting and cut her hair short to mar her appearance.
Her parents attempted to resist this move, to avoid marriage, but they were unsuccessful. Her fasting and her devotion to her family, convinced them to relent and allow her to live as she pleased. Catherine once explained that she regarded her father as a representation of Jesus and her mother as Our Lady, and her brothers as the apostles, which helped her to serve them with humility.
Despite Catherine's religious nature, she did not choose to enter a convent and instead she joined the Third Order of St. Dominic, which allowed her to associate with a religious society while living at home.
Fellow Dominican sisters taught St. Catherine how to read. Meanwhile, she lived quietly, isolated within her family home. St. Catherine developed a habit of giving things away and she continually gave away her family's food and clothing to people in need. She never asked permission to give these things away, and she quietly put up with their criticisms.
Something changed her when she was 21. She described an experience she referred to as her "mystical marriage to Christ."
Such mystical experiences change people, and St. Catherine was no exception. In her vision, she was told to reenter public life and to help the poor and sick. She immediately rejoined her family and went into public to help people in need. She often visited hospitals and homes where the poor and sick were found. Her activities quickly attracted followers who helped her in her mission to serve the poor and sick.
St. Catherine was drawn further into the world as she worked, and eventually she began to travel, calling for reform of the Church and for people to confess and to love God totally. She became involved in politics, and was key in working to keep city states loyal to the Pope. She was also credited with helping to start a crusade to the Holy Land. On one occasion, she visited a condemned political prisoner and was credited with saving his soul, which she saw being taken up to heaven at the moment of his death.
St. Catherine allegedly was given the stigmata, but like her ring, it was visible only to herself.
She became involved in the fractured politics of her time, but was instrumental in restoring the Papacy to Rome and in brokering peace deals during a time of factional conflict and war between the Italian city states.
She also established a monastery for women in 1377 outside of Siena. She is credited with composing over 400 letters, her Dialogue, which is her definitive work, and her prayers. These works are so influential that St. Catherine would later be declared a Doctor of the Church. She is one of the most influential and popular saints in the Church.
St Luke, patron saint of artists and physicians
Luke was the writer of the Gospel and the Acts of the Apostles. We know few other facts about Luke's life from Scripture and from early Church historians.
It is believed that Luke was born a Greek and a Gentile. It is only in his gospel that we hear the parable of the Good Samaritan, that we hear Jesus praising the faith of Gentiles such as the widow of Zarephath and Naaman the Syrian (Lk.4:25-27), and that we hear the story of the one grateful leper who is a Samaritan (Lk.17:11-19). According to the early Church historian Eusebius Luke was born at Antioch in Syria.
In our day, it would be easy to assume that someone who was a doctor was rich, but scholars have argued that Luke might have been born a slave. It was not uncommon for families to educate slaves in medicine so that they would have a resident family physician. Not only do we have Saint Paul's word, but Eusebius, Saint Jerome, Saint Irenaeus and Caius, a second-century writer, all refer to Luke as a physician.
We have to go to Acts to follow the trail of Luke's Christian ministry. We know nothing about his conversion but looking at the language of Acts we can see where he joined Saint Paul. Luke first joined Paul's company at Troas at about the year 51 and accompanied him into Macedonia where they traveled first to Samothrace, Neapolis, and finally Philippi. In the year 58, Luke left Philippi to rejoin Paul in Troas where they first met up. They traveled together through Miletus, Tyre, Caesarea, to Jerusalem.
Luke is the loyal comrade who stays with Paul when he is imprisoned in Rome about the year 61. And after everyone else deserts Paul in his final imprisonment and sufferings, it is Luke who remains with Paul to the end: "Only Luke is with me" (2 Timothy 4:11).
Luke's unique perspective on Jesus can be seen in the six miracles and eighteen parables not found in the other gospels. Luke's is the gospel of the poor and of social justice. He is the one who tells the story of Lazarus and the Rich Man who ignored him. Luke is the one who uses "Blessed are the poor" instead of "Blessed are the poor in spirit" in the beatitudes. Only in Luke's gospel do we hear Mary 's Magnificat where she proclaims that God "has brought down the powerful from their thrones, and lifted up the lowly; he has filled the hungry with good things, and sent the rich away empty" (Luke 1:52-53).
Luke also has a special connection with the women in Jesus' life, especially Mary. It is only in Luke's gospel that we hear the story of the Annunciation, Mary's visit to Elizabeth including the Magnificat, the Presentation, and the story of Jesus' disappearance in Jerusalem. It is Luke that we have to thank for the Scriptural parts of the Hail Mary: "Hail Mary full of grace" spoken at the Annunciation and "Blessed are you and blessed is the fruit of your womb Jesus" spoken by her cousin Elizabeth.
Forgiveness and God's mercy to sinners is also of first importance to Luke. Only in Luke do we hear the story of the Prodigal Son welcomed back by the overjoyed father. Only in Luke do we hear the story of the forgiven woman disrupting the feast by washing Jesus' feet with her tears. Throughout Luke's gospel, Jesus takes the side of the sinner who wants to return to God's mercy.
Reading Luke's gospel gives a good idea of his character as one who loved the poor, who wanted the door to God's kingdom opened to all, who respected women, and who saw hope in God's mercy for everyone.
The reports of Luke's life after Paul's death are conflicting. Some early writers claim he was martyred, others say he lived a long life. Some say he preached in Greece, others in Gaul. The earliest tradition we have says that he died at 84 Boeotia after settling in Greece to write his Gospel.