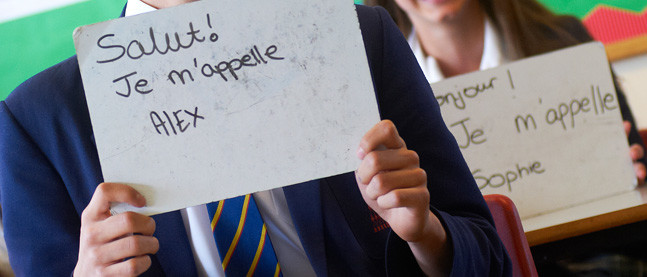 The Languages department aims to develop pupils and students' ability to use the language effectively for communication, to foster intercultural understanding and awareness and to provide a sound base for further study. The department currently teaches four languages; French (all years), German (Years 10 and 11), Spanish (all years) and Italian (Years 9, 11 and 13). Some pupils have the opportunity to study two languages at both Key Stage 3 and 4.
The department is well-staffed and cohesive. Additionally we employ a Spanish Foreign Language Assistant giving students the opportunity to learn in smaller groups or on a one-to-one basis. We seek to motivate students to enjoy learning languages and to become life-long language learners.
The curriculum is designed to be as interactive as possible with interactive whiteboard technology being used in all seven dedicated classrooms to engage learners.
Enrichment
The department offers many enrichment opportunities. Pupils in Year 7 are offered a residential cultural trip to either France or Spain. There is also a cultural trip for Year 9 and Year 10 pupils to Paris as well as a Spanish exchange.
KS3
KS3 Steps of Progress
KS4
KS5