Transport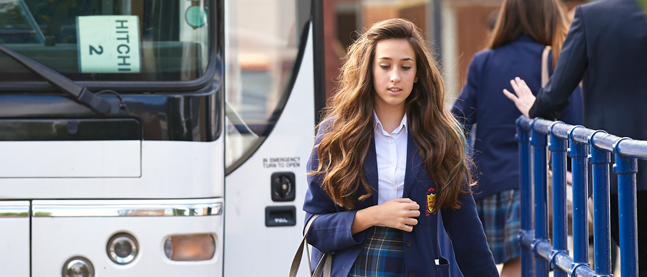 Richmonds Coaches run the Royston and Baldock route richmonds-coaches
Landmark Hire run the Hitchin, Letchworth and Bedfordshire routes landmarkhire.com
Richard Taylor Travel runs the Hertford and Tewin routes richardtaylortravel.co.uk
Please contact the companies directly for booking places on their coaches and for more information.
For public bus queries, please contact Arriva on 03448 004411.
Please follow this link for route planners, maps and bus timetables:
The cost of journeys on public buses can be reduced by purchasing a Savercard. Application forms for a Savercard are available from the school office. Savercard applications cost £20. For further information regarding Savercards please click here.
Information regarding planning a journey to school can be viewed here.
There is also a privately arranged coach service organised by parent volunteers operates between Welwyn Garden City and the School. Should you wish to have further information, please contact the School Office who will pass your details on to the relevant committee.
For information on free home to school transport please contact the relevant number below:
Hertfordshire: 0300 123 4043
Bedfordshire: 0300 300 8339