Uniform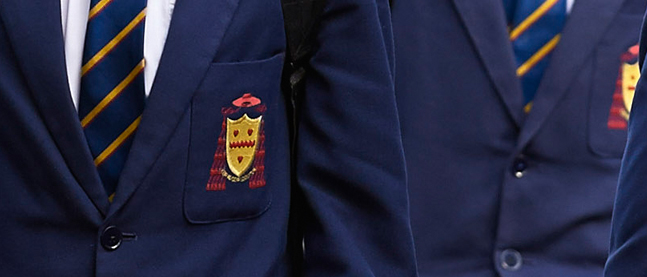 We believe that high standards of dress reflect high standards in other areas of school life. Our school uniform gives pupils a sense of pride and identity in keeping with the ethos of the school. All pupils are required to wear our official uniform, with the exception of our Sixth Form students who have their own dress code. Uniform includes proper PE kit for lessons and aprons for Technology.
School Uniform and PE Kit Ordering Process For Current Years 8 -11
Please click the following link for our current Uniform Price List & Order Form. Complete and return to Student Services, via Reception, so the order can be processed. Payment can be made via Parentpay, or by cheque/cash.
There is very limited items of PE kit in the School Uniform Shop so please check before placing your order. The Uniform Shop is open to pupils only at lunchtime on the first Wednesday of every month, unless otherwise notified. If your son/daughter requires an item of uniform in an emergency, then please email admin@jhn.herts.sch.uk and your order will be passed onto the relevant member of staff who will assist with your enquiry. Sportswear International now supplies PE kit for all pupils. Please see link below.
School Uniform and PE Kit Ordering Process For Current Year 7 and Secondary Transfer
(Year 6 into Year 7)
Since the 1st April 2016 we have been using John Lewis to supply and stock our uniform for new Year 7 pupils joining in September. Please click this link for ordering: John Lewis. Where possible when ordering online from John Lewis please purchase through the Easy Fundraising site, as this provides extra funds for the school at no additional cost to yourself.
Sportswear International now supply PE kit to all pupils and this will be available to order via the following link Sportswear International or using the Order Form.
Sportswear International recommend that all orders are placed on or before Monday 5th August ready for the start of term.