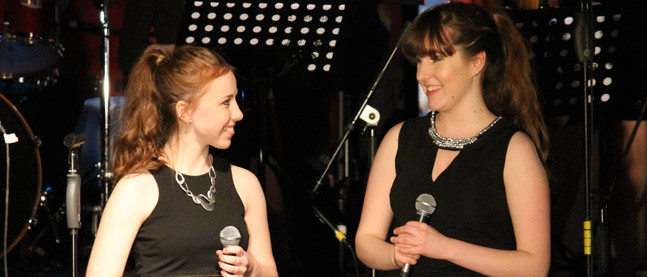 The John Henry Newman School Music department is a vibrant department where pupils and students learn how to play, listen to and read music. We have state of the art equipment for students to be using and we promote the use of Garageband, Logic 10 and Sibelius software to support and further musical development. We have strong links with the Hertfordshire County Music Service and we are able to offer specialist tuition on over 10 instruments. In Year 8 we follow the Musical Futures model of encouraging independent peer learning as pupils thrive in a practical setting to learn their chosen pieces of music.
In January 2016 we relocated into our purpose built performing arts building. The department is well equipped and resourced with four full time members of staff and one part-time music technology teacher. We have the luxury of three purpose-built classroom spaces which consist of a large recital room and two mac suites. In addition to these teaching spaces we have a recording studio, four musical futures rooms that are used as breakout spaces for all year groups and a further 4 practice rooms for individual and group tuition by a wide range of peripatetic teachers. We have an excellent team of peripatetic staff who offer private tuition on piano, flute, clarinet, saxophone, brass, violin, voice, guitar, bass and drums.
Enrichment
Music plays such a crucial role in the life of the school, supporting both public and liturgical events. We have a vast range of extra-curricular groups for example, Chamber Choir, Main Choir, Windband, String Group and Jazz Band. Student Leadership plays a very crucial role in events such as Jazz Nights and school productions. Students are encouraged to perform throughout the year at informal lunchtime events, at recital evenings and at the more formal school concerts. Every other year our music department go on tour to Europe. Over the years Austria, Switzerland, Spain, Italy, Holland, Czech Republich, Germany, Belgium and Hungary have hosted our ensembles for concert tours.
KS3
KS3 Steps of Progress
KS4
KS5