Assessment & Reporting
Assessment takes place regularly throughout each subject and Key Stage to ensure that all pupils make at least good progress. At Key Stage 3, in Years 7 & 8, we follow a 'step' based approach, relative to the skills required to demonstrate success at GCSE. Each subject area has an expectation of how much progress a given pupil will make throughout the year and tracks their progress towards this. Starting points are determined by a baseline test which takes place in the Autumn term. This is a skills led approach, relative to a pupil's individual starting point and is based on a combination of teacher professional judgement and pupil performance. Pupils understand their progress is measured on the basis of what skills they can demonstrate and know what they need to do to achieve the next step. This information is shared with them by each subject area.
At Key Stages 4 and 5, we follow GCSE and AS/A2/BTEC grade criteria as a mechanism to report progress. We gather many strands together to assess pupil progress including class and homework, verbal and written feedback, peer assessment, test performance etc. and our tracking ensures that pupils who begin to slip away from their target grades are identified quickly and supported through early intervention to get back on track.
Annual Parents' Subject Consultation Evenings are further opportunities for parents/carers to discuss their child's progress with teaching staff. Parents can also access their child/children's performance information via the online system using their secure log-in and password at any time
As the Government continues with educational reforms at Key Stage 4, please be aware of the transition to the new GCSE grading structure. Our current Year 11 pupils are following the older A*-U grade system, except for in English and Maths where they are following the new 1-9 structure. All other year groups and subject areas at Key Stage 4 now follow the 1-9 structure (see below)
How do the new GCSE points relate to the old GCSE grades?
From 2017 for English and Maths GCSEs, and from 2018 for all other subjects, the A*-G GCSE grades will be replaced by a points scale of 1 to 9. 9 will be the highest grade and 1 the lowest. The proportion of students nationally gaining at least a Grade 4 will be roughly the same as those who gained at least a C under the old system. The proportion of students nationally gaining at least a Grade 7 will be roughly the same as those who gained at least an A. The new Grade 9 will be awarded to the top 20% of students gaining at least a Grade 7. The table below shows how the new number grades relate to the old GCSE grades.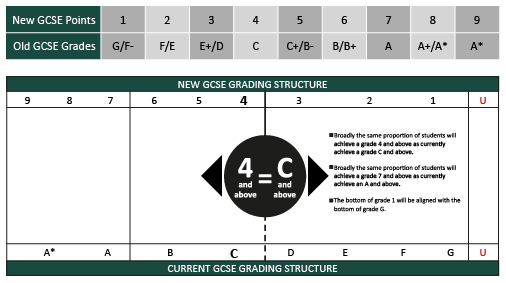 What grade should my son or daughter be achieving?
The minimum expected grade is complicated as it is based on the actual marks in the SATs rather than the levels. The table below provides a guide to the minimum expectation and is based on Key Stage 2 SATs Levels.