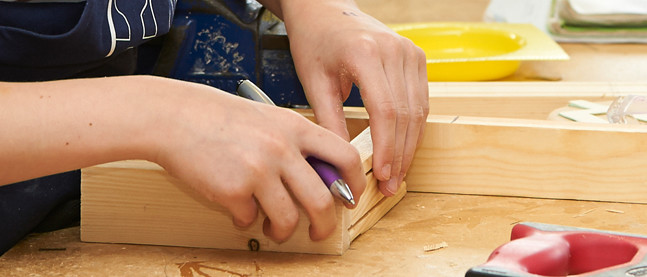 Design and technology is an inspiring, rigorous and practical subject. Using creativity and imagination, pupils design and make products that solve real and relevant problems within a variety of contexts, considering their own and others' needs, wants and values. They acquire a broad range of subject knowledge and draw on disciplines such as mathematics, science, engineering, computing and art. Pupils learn how to take risks, becoming resourceful, innovative, enterprising and capable citizens. Through the evaluation of past and present design and technology, they develop a critical understanding of its impact on daily life and the wider world. High-quality design and technology education makes an essential contribution to the creativity, culture, wealth and well-being of the nation.
The department has a suite of six rooms, many facilities and a wide range of equipment, ranging from traditional tools to more up to date equipment. Equipment includes a laser cutter and dedicated computer areas which enable pupils to further their designs.
Enrichment
There are a wide range of extra-curricular activities on offer. School Technology Clubs are available to Key Stage 3, 4 and 5 students after school and our students are regularly involved in Technology Tournaments and Young Chef Competitions.
Resources
"What is D&T – and why do we need it?" - A 10 minute video produced by the D&T Association. It is aimed at students, parents and employers, and shows the importance of the subject in a balanced curriculum and why, with the current skills shortages in the creative, manufacturing and engineering industries, it is a valuable subject for young people to study.
KS 3
KS3 Steps of Progress
KS4
KS5