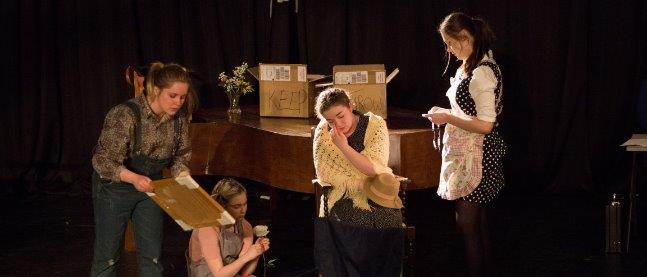 Drama plays a key role in the specialist status and is an important partner with Art, Music & Production Arts. There is an energetic and enthusiastic team of staff working together to promote Drama throughout the school. Through drama we explore a variety of issues that may affect young people today and hope to broaden their understanding and encourage them to think about their choices, while keeping the lessons fast paced and enjoyable.
There are four dedicated performance areas in the schools brand new Performing Arts block (The Pavilion) this is in addition to the School Hall with it's performing stage which has access to lighting rigs, sound equipment and staging.
Enrichment
The Drama department offer a variety of extra-curricular activities to the whole school. One of the activities on offer is Drama Club for all year groups, which runs one night after school each week and is supported by some of our Sixth Form drama students, where they work on developing performance skills and put on a small scale annual production in the summer term, namely A Midsummer Night's Dream, Alice in Wonderland and The Jungle Book. This has proved popular with Key Stage 3 pupils, as well as actively involving our GCSE and A Level Students who do not want to take part in the larger school production of a musical.
Each year we also collaborate with other departments within the school to create our whole school production. This event brings pupils and students from all age ranges together and allows them to showcase and celebrate their talents in every area of the arts.
Regular theatre trips to small and large scale venues encourage pupils and students to experience the variety of dramatic genres and add to the vibrancy and creativity of the department.
The department also have close relationships with theatre companies such as Scene Productions, Trestle Theatre Company and Frantic Assembly where there are opportunities each year for pupils and students to take part in professional workshops.
KS3
KS3 Steps of Progress
KS4
KS5