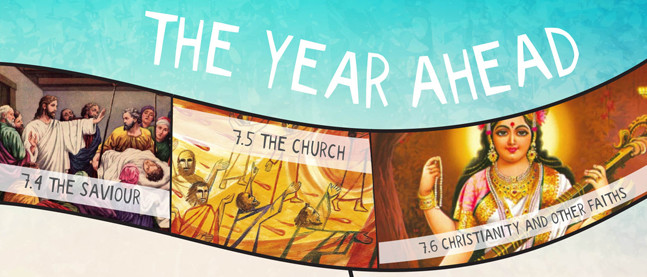 Religious Education is at the heart of the curriculum. The department consists of seven specialist teachers, our lay chaplain, with support from teachers across other subject areas in Key Stage 5. Our RE curriculum fulfils the needs of the Curriculum Directory and offers 10% of curriculum time at KS3 & 4, with 5% of curriculum time at KS5. Our aim is to produce religiously literate and engaged young people who have the knowledge, understanding and skills appropriate to their age, to reflect spiritually, think ethically and theologically and who are aware of the demands of religious commitment in everyday life.
Enrichment
There are a number of enrichment opportunities offered and supported by the Religious Education Department. There is an annual trip for each of the year groups at Key Stage 3:
Year 7 Friendship Days early in the autumn term, coordinated by the Chaplaincy team
Year 8 visit churches in Stevenage Old Town in the last half of the summer term
Year 9 visit Buckden Towers to focus on family and relationships, which supports the RSE programme, along with a World Religions visit in the Summer term
Pupils in both KS3 and KS4 get the opportunity to see a performance by Ten Ten Theatre group to support their PSHE program
Within curriculum time pupils and students from Year 7 to Year 13 have the opportunity to learn and worship together in the school chapel and the department works very closely with the school's Chaplaincy to support whole school worship and liturgy.
Pupils and students also have the opportunity to join a variety of groups, with which the Religious Education department have close ties, including the student Chaplaincy teams and the Fair Trade group. There is also The Young Philosophers' Club for the Lower School.
Opportunities to travel with the school to Lourdes, the Holy Land, to Uganda and to World Youth Day are all offered to students and pupils and coordinated by members of the department. The RE department works hard to support the work of Fairtrade, CAFOD, SVP and a variety of other local and regional charities.
KS3
In KS3 we build a foundation for pupils in the beliefs and morals that are uniquely found in the Christian faith. As a Catholic school, we feel that it is vital that lower school students are taught the teachings of the Church, along with building their knowledge in the Scriptures.
We also feel it is important that pupils are aware of the beliefs and practices of other major world religions. We hope this will help them to become open minded young adults and respectful of other faiths. Pupils are assessed on two strands of attainment; Learning about Religion and Learning from Religion. Formal assessment takes place within every unit of study and pupils are awarded an attainment level for each assessment as well as an overall, summative Key Stage 3 level, in accordance with the Catholic Bishops Conference of England and Wales.
KS3 Steps of Progress
KS4
At Key Stage 4, pupils are taught in mixed ability classes and will complete their GCSE course at the end of Year 11.
Teaching at GCSE level begins in the Autumn Term in Year 9. The course consists of 3 papers; the Study of Catholic Christianity, the study of Judaism and Philosophy and Ethics (Catholic Christianity). Students will learn about various beliefs and teachings, practices, sources of Wisdom and Authority and forms of expression and ways of life within Christianity and Judaism.
The course will challenge students to explore and discuss topics that are relevant to today's world, understand Catholic teaching on these matters, and reflect on their own opinion.
Pupils are internally assessed at the end of each topic on their knowledge and understanding and their ability to evaluate by considering their own views and the views of others about relevant issues.
KS5
Students in Years 12 and 13 follow the WJEC Eduqas A Level in Religious Studies. The course includes 3 components; the study of Christianity, Philosophy of Religion and Religion and Ethics.