Transport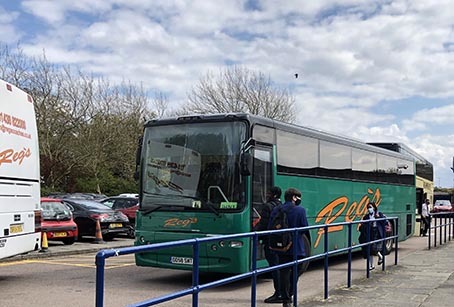 Wherever possible we would encourage pupils to travel to school by walking, cycling, private bus routes or public transport and avoid the use of parental cars.
When choosing how your child should travel to school there are a range of options with some areas being serviced with both public transport and private bus routes.
We have a number of bus routes run by private companies.
Private Transport
Richmonds Coaches run the Royston and Baldock route
richmonds-coaches.co.uk
Richard Taylor Travel runs the Hertford and Tewin route
richard taylor travel.co.uk
Regs Coaches runs the Welwyn Garden City and Hatfield route
regs coaches.co.uk
Please contact the companies directly for booking places on their coaches and for more information.
Public Transport
Arriva provides routes to most areas including - Stevenage, Letchworth, Hitchin, Luton, Welwyn Garden City and Hatfield. The most cost effective and flexible solution for buying tickets are the Annual Saver Tickets. These can be paid for by direct debit, with the cost of an annual ticket spread over 12 monthly instalments. The direct debit can be stopped and recommenced at any time, so students/parents or carers are not tied into a contract.The additional benefit of this ticket is that the student can use it evenings, weekends and during term holidays and can be used on our mobile M-Ticket app. There are many other options for buying tickets and tickets can be bought online.
Centrebus provides routes to Hitchin, parts of Stevenage and Hertford. They can also be used for pupils living in parts of Bedfordshire to link to other bus services to Stevenage.
National Rail provides train routes from the north including South Cambridgeshire and Bedfordshire and from the south. Pupils travel from Stevenage Railway Station to school by bus, walking or on cycling.
nationalrail.co.uk/service/planjourney
The cost of journeys on public buses can be reduced by purchasing a Savercard. Application forms for a Savercard are available from the school office. Savercard applications cost £20. For further information regarding Savercards please click here.
Please follow this link for route planners, maps and bus timetables: intalink.org.uk
Free School Transport
Very few children can get free home to school transport paid for by their local authority, but if your child is entitled to free school meals or you get the maximum level of Working Tax Credit and The John Newman School is the nearest Catholic school and within 2–15 miles of the home address you should be eligible.If you think this applies to your children please contact:
Hertfordshire - transfer.admissions@hertfordshire.gov.uk
Central Bedfordshire
centralbedfordshire.gov.uk/apply for school transport