JHN Expectations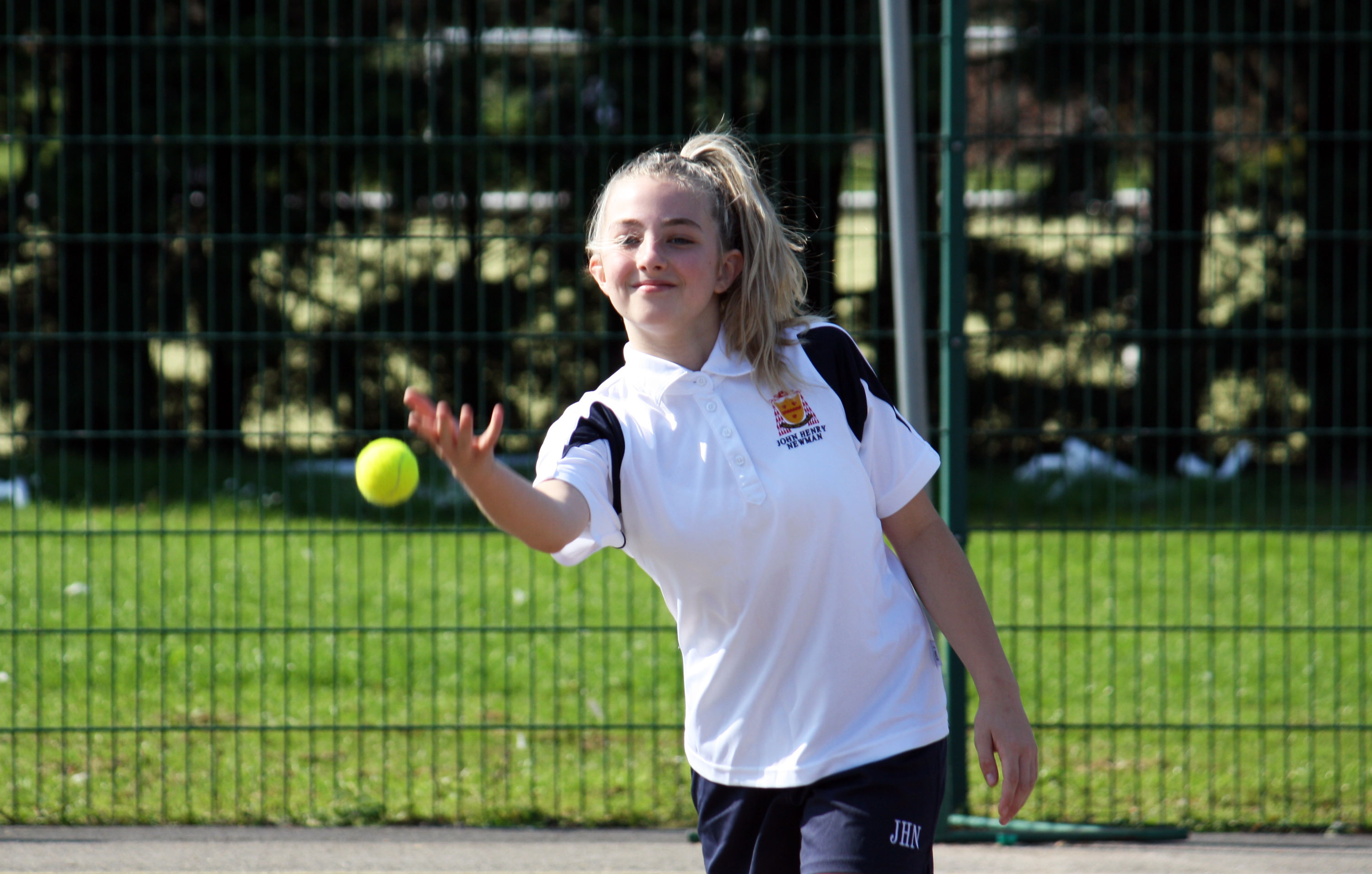 We take pride in all that we do at The Saint John Henry Newman Catholic School. We encourage everyone to aim high, to work hard, to value each other and to contribute to re-creating the Kingdom of God in our school every day.
We place a great emphasis on hard work and consistent effort in all aspects of school life. We like to celebrate achievement and endeavour through praise postcards, celebratory lunches, commendations from the Chair of Governors, and though the Newman Point system. Our rewards take many forms; it is important that effort and achievement of all kinds are treated as noteworthy. We encourage all students to take a real pride in their own achievements and to respect the achievements of others.

VIEW OUR WHOLE SCHOOL CONDUCT FRAMEWORK
Newman Points
Newman points are awarded for work of an exceptional or good standard, dynamic learning, good organisation, attendance and contribution to school life. They are accumulated over the course of a year and are awarded to all pupils and students. The range of Newman Points are detailed below.
| | |
| --- | --- |
| Class/Homework/ improved effort/positive contribution to class or community/ support for school events | 1, 3 or 5 points |
| Departmental/ Pastoral Postcards | 20 points |
| Roll of Honour - Attendance | 20 points |
| Roll of Honour – No Sanctions | 30 points |
| Learning Reviews | 30 points |
| Headteacher Awards | 50 points |

Certificates are awarded as follows:
| | | |
| --- | --- | --- |
| Bronze | 100 points | 1 entry to prize draw |
| Silver | 200 points | 2 entries to prize draw |
| Gold | 300 points | 3 entries to prize draw |
| Platinum | 400 points | 4 entries to prize draw |

Certificates are presented by the Learning Co-ordinator at Year Assemblies, and Gold Certificates by the Headteacher or Chairman of Governors. Each Certificate winner is entered into a prize draw, according to the scale above. Prizes will include Amazon vouchers or similar, and in Years 11 and 13, the Autumn and Spring Term draws will include a Prom Pass.
All certificate winners will be entered into an annual prize draw in the Summer term. The prize will vary each year but may include an ipod or similar
Awards
Each year, special awards will be presented to pupils and students who have performed exceptionally well in certain aspects of school life or curriculum areas. These awards are given at the annual Presentation Evening and include subject prizes at each Key Stage, the Headteacher's Prize for Outstanding Learning and Achievement, amongst other Commendations and Prizes.
Everyone in our School is entitled to respect and courtesy. These should be shown in a friendly approach, in speech and good manners, in helping others in times of difficulty.
The respect shown to pupils and staff should apply equally to each other, to visitors and to newcomers to the School.
The Saint John Henry Newman School Expectations
Classwork
We expect that pupils and students:
Demonstrate commitment to their own learning and progress.
Complete all work to the best of their ability.
Stay on task.
Present all work to the best of their ability.
Contribute fully to lessons.
Have the necessary equipment.
Behaviour
We expect that pupils and students:
Take pride in their appearance and look smart at all times
Contribute to a well-ordered, friendly environment in which everyone can learn effectively.
Are polite and respectful.
Arrive on time and settle quickly.
Listen attentively
Put their hands up and avoid calling out.
Are co-operative and considerate.
Respect the environment and others' property.
Homework
We expect that pupils and students:
Complete homework to the best of their ability.
Take sufficient time and care over homework.
Present homework to the best of their ability.
Hand in homework when it is due.
Listen to and record instructions carefully.
Show commitment to learning from previous mistakes.
Check homework before handing it in.
Code of Conduct
We treat each other equally
We always take care of our school and our surroundings
We do not draw or write anything that could upset others
We accept people's beliefs and do not discriminate because of race or disabilities
We do not fight or deliberately hurt people
We always follow the basic classroom rights
We do not upset or offend anyone with our words or our actions
We respect each other
Consequences
Our Consequence System is designed to support students in their learning and enjoyment of school. Whilst our ethos is to reward students as often as possible there inevitably have to be clear expectations regarding behaviour. The system is based on promoting learning; anything that prevents the student or others from learning will be taken very seriously.
Our new Consequences System is based on a fair set of rules that will be applied by all staff consistently. The system gives students the chance to behave. If they choose not to, they will be given a warning. If they do not respond to the warning, they will then be given the choice of regulating their own behaviour, or receiving a consequence. If they still do not respond, they will receive a consequence.
Rules of the consequence system
Staff will always try to build relationships with students and encourage students to choose the correct behaviour.
Once a consequence has been given it cannot be taken back except through consultation with the Director of Learning for the Year Group or a member of the Leadership Group.
Students will always be told why they have received a consequence.
Sanctions
The following notes offer a general guide; for details please consult the Rewards and Consequences framework. Students and parents may like to know that all sanctions are recorded on a school database.
Verbal warnings
Students who disrupt the learning of others, talk or move around when they shouldn't, or come to class without the necessary equipment, will get a 'C1' consequence, which earns a verbal warning.
Detentions
Students who persist with poor behaviour will earn a 'C2', and a one-hour detention after school. Disobedience, rudeness, swearing in conversation, lateness and some other behaviour also earn a C2 detention, as does failure to attend a subject detention (for missed homework).
Students will bring home a detention form (which they have to sign for) informing parents/carers of a C2 detention, which they will complete, in silence, from 3.10-4.10 pm. Misbehaviour or failure to attend may lead to a SLT detention (C3 -held every Friday from 3.15 - 4.45pm) or an internal exclusion.
Parents may contact the Director of Learning for their child's Year Group (Head of Year) or a member of the Leadership Group if they have queries about detentions. If a detention needs to be rearranged, please contact Student Services.
Removal and Internal exclusion
Swearing across a room, or at another person, chewing gum, walking away from a member of staff and fighting or bullying can result in a C4, meaning removal from class. Students may then be internally excluded, in which case they will be set work and supervised for the remainder of the day. In addition, they will also attend an SLT detention
Students in internal exclusion may bring a packed lunch or can buy a sandwich, drink and fruit from a limited menu. Students will not be allowed to communicate with their peers or other members of the school community during the day.
Exclusion
Saint John Henry Newman School does not exclude students lightly, but fixed-term or permanent exclusion can be applied to students whose behaviour is violent, criminal, or threatening, and to students who repeatedly cross the boundaries of poor behaviour and do not respond to other consequences.