Careers
The Saint John Henry Newman's School vision for Careers.
Curriculum
Careers, employability and enterprise experiences are integral to the learning journey here at The Saint John Henry Newman School. Our students make choices at key points in their learning at both post 16 and post 18. Our aim is to help them to develop skills to make informed and considered decisions at these milestones. Our Careers Department is here to help both students and parents/carers, teachers and employers to navigate these pathways and make informed choices.
Please click here for the Careers Education information advice and guidance policy
Raising the Participation Age
All young people are required to continue in education or training until their 18th birthday. This does not have to mean staying in school. Students can choose to study or train in any of the following ways:
Stay on full-time in a school, college or with a training provider (many young people also do a part time job alongside this).
Work or volunteer full-time, together with part-time education or training.
Take up an apprenticeship or traineeship.
Careers Team
The Saint John Henry Newman school has a dedicated and experienced careers team who are here to help guide students through their career and future options:
Mrs W Howard-Deputy Head I/C pastoral and life skills
Mrs P Brown- Careers lead and Careers Advisor (level 6) working with all key stages
Miss J Moles- Apprenticeship champion
Careers interviews are given to all year 11 students and by appointment for other year groups. Please email brownp@jhn.herts.sch.uk to book an appointment.
Careers Curriculum
Every student at The Saint John Henry Newman School is taught Careers, Enterprise and Employability through our 'Living in the wider world' programme. This is in order for every child to be prepared for life in Modern Britain (DfE, 2017). Our programme this year allows students to have the following opportunities to access a number of events, integrated into the schools PSHCE/ careers programme. This will offer providers an opportunity to come into school to speak to pupils in lesson and assembly time
Our programme is personalised and age appropriate to every key stage to help prepare students to make decisions about their future. This will be mapped to have the most impact according to their school year. We are always aspirational in order for our students to aim high and reach their fullest potential.
"Independent careers guidance must be provided in schools in England to all year 8 – 13 pupils (12 – 18 year olds).
It must be provided in an impartial manner – no bias or favouritism towards a particular education or work option.
It should explore the range of education or training options – including apprenticeships and other vocational pathways.
Resources available to students at The Saint John Henry Newman school during their school career include:
National Careers Week
National Apprenticeship week
MK Apprenticeship Show
Workplace & University visits
Assemblies led by local employers, former students and career experts
Alumni visits
Career insight talks in lesson
Support with employability skills
Mock interviews.
Regular apprenticeship talks.
Impartial information on Post 14, 16 and 18 course choices
Leadership opportunities
Enrichment activities offer our students an opportunity to follow their interests and try new activities.
Outside inside week year 12.
Where are they now?
Alumni Programme
The Saint John Henry Newman School works to develop a sustainable alumni community. This engages both current students and former students in various Alumni careers events and interactions. We aim to embed alumni engagement across the fabric of the school and lives of the students so that the Saint John Henry Newman network is sustainable and accessible for generations to come.
If you are a former student and you wish to join the Alumni team please contact brownp@jhn.herts.sch.uk
Key Stage 3 and 4
At The Saint John Henry Newman Catholic School high quality impartial careers guidance will help pupils to make informed choices about which courses suit their academic needs and aspirations. They will be prepared for the next stage of their education, employment, self-employments or training. We believe that pupils should have the opportunity to become aware of their unique talents and the opportunities these can lead to.
The careers department is constantly looking for new opportunities for our pupils. If you feel you can help in any way please contact: brownp@jhn.herts.sch.uk
Key Stage 5
At The Saint John Henry Newman Catholic School students will receive high quality impartial careers guidance that prepares them for their chosen next steps and enables them to make well informed decisions about their future plans
Our Goals: Our Careers work reflects the Gatsby Benchmarks developing core employability skills through subject teaching experiences with employers and individual guidance sessions. We work with a range of partners including the Careers and Enterprise Company, Adecco, Airbus, MBDA, GSK, Anglian Water, Willmott Dixon, Herts Police and JHN Alumni. We belong to Hertfordshire Local Enterprise Partnership Careers Hub and share ideas with partner schools and businesses within the county.
If you are a business leader or employee and could offer us support, please contact us on brownp@jhn.herts.sch.uk
Wider Educational Provider Access
This statement sets out the school's arrangements for managing the access of other educational providers to pupils at the school for the purpose of giving them information about other education or training offer. This complies with the school's legal obligations under Section 42B of the Education Act 1997. Moreover, we welcome providers into school, and are happy to send information about the range of opportunities to our pupils and their families.
Pupil entitlement
All pupils in Years 8-13 are entitled:
to find out about technical education qualifications and apprenticeships opportunities, as part of a careers programme which provides information on the full range of education and training options available at each transition point;
to hear from a range of local providers about the opportunities they offer, including technical education and apprenticeships – through options events, assemblies and group discussions and taster events;
to understand how to make applications for the full range of academic and technical courses.
Management of provider access requests
Procedure
A provider wishing to request access should contact Mrs Patricia Brown.
Telephone: 01438314643; Email: brownp@jhn.herts.sch.uk
Opportunities to access several events, integrated into the school careers programme, will offer providers an opportunity to come into school to speak to pupils and/or their parents/carers. We always welcome opportunities to extend the understanding of our pupils on the different routes and pathways which are available to them. Please contact us to hear more about possible opportunities.
UNIFROG

This outstanding careers tool brings together all the available information about higher education and training into one single, impartial, user-friendly platform. In here, you will find everything you need to prepare yourself for making decisions about what you want to do. There are also tools to help you with your personal statement, CV and application forms.
How to sign up to Unifrog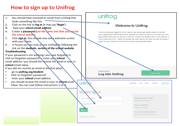 How to sign up to Unifrog - Students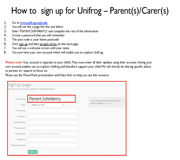 How to sign up to Unifrog - Parents
Useful Resources
Activities Tool
This PowerPoint takes you through how to use the Activities tool.
Competencies Tool
This PowerPoint takes you through how to use the Competencies tool.
Intentions Tool
This PowerPoint takes you through how to use the Intentions tool.
CV Tool
This PowerPoint takes you through how to use the CV tool.
Apprenticeship Tool
This PowerPoint takes you through how to use the Apprenticeship tool.
University Tool
This PowerPoint takes you through how to use the UK University tool.
College and Sixth Form Tool
This PowerPoint takes you through how to use the College and Sixth Form tool.
HOW TO SUPPORT YOUR CHILDS FUTURE CAREER CHOICES
KS3 - YEAR 7,8 & 9
YEAR 7 CAREERS ACTIVITIES:
Self-awareness activities, including transition, personal achievement and seeking advice.
Friendship day: Change and making new friends.
Unifrog sign up and personality quiz. Logging achievements and skills onto the Unifrog platform.
Developing skills and aspirations. Teamwork, Enterprise skills and raising aspirations
National Careers Week: Range of employer interactions/activities in school
National Apprenticeship week: Raising awareness of apprenticeship opportunities connecting learning to real life
Virtual Careers events: Medicine/ Healthcare Careers event delivered by NHS Lister Hospital Medics. TBC
Dropdown careers day: Take your child to work day will allow pupils to see the world of work. April 27th 2023
YEAR 8 CAREERS ACTIVITIES:
Unifrog platform, signposts pupils to the various careers, subject and knowhow sections of the website
Virtual Careers events: Medicine/ Healthcare Careers event delivered by NHS Lister Hospital Medics.TBC
National Careers / Apprenticeship Weeks – This will be used to inspire pupils and raise awareness of the variety of careers that are linked to their subject, connecting learning to 'real life'.
Careers/enterprise skills: Fundraiser day for Garden House Hospice.
Enterprise week: Fundraising week for the Garden House Hospice
Speakers: From Garden House Hospice
Volunteering week – To Garden House Hospice
YEAR 9 CAREERS ACTIVITIES
Unifrog: Pupils continue to discover their career opportunities in PSHCE lessons. Setting Goals: Learning Strengths, career options and goal setting as part of the GCSE process
Virtual Careers events: Medicine/ Healthcare Careers event delivered by NHS Lister Hospital Medics. TBC
IT - Robotics competition: Pupils in year 9 have completed a robotics competition with a local missile defence company where they had opportunities to ask about careers and skills.
National Careers / Apprenticeship Weeks (March) Talks/Activities from various outside employers and employees.
Apprenticeship focus in National Apprenticeship week.
Drop down days: Great men and great women day- speed interviewing
KS4 YEAR 10 & 11
Y10 PUPILS CAREER ACTIVITIES:
Unifrog: Pupils continue to discover their career opportunities and higher education etc
Work experience preparation: Assemblies to talk about the process of work experience and its benefits to students. The administration process explained.
Work Experience week: Student go out on a week's work experience in Enrichment week where they develop new skills and learn about the world of work.
IT: Year 10 trip to The National Museum of Computing
Speaker to lesson- IT – Year 12: How to get into a career in technology
National Careers week 6-11th March : Careers fair.
National Apprenticeship week
Independent careers advice: Year 10 have an opportunity to have independent careers advice. Please email brownp@jhn.herts.sch.uk This looks at matching pupils with interests/values to chosen careers and develops an action plan for post 16 choices.
CV and Interview workshops: A local recruitment company presents an assembly on the skills in the workplace. This is followed by 6 weekly workshops on CV and interview skills. This will result in a week's work experience with the company.
YEAR 11 CAREERS
Unifrog: Researching their intended career path. Looking at skills and logging them onto their activities. Pupils will start to populate their employability actions. Introduction to work experiences. A-level choices and exploring subject choices.
Advice from 6TH form students: talk about their experiences in year 11 and the methods they used to consider post 16 options.
Drop down day: Oakland's college: Pupils who are not considering 6th form will be taken to Oakland's college to discover the level 2 and 3 options offered.
Y11 Sixth Form Taster Day – A day collapsed for Y11 to experience 6th form at The Saint John Henry Newman School. There will be taster sessions provided in each subject for students to explore before making their A level choices.
University of Hertfordshire assembly: TBC A talk on applying to university including finance, halls and courses.
National careers week- 6-11th March – Careers fair in school
Senior Leadership interviews: A member of SLT will engage with pupils on their post 16 choices.
KS5 YEARS 12 & 13
KEY STAGE 5 PROVISION:
Voluntary work experience placements
Workplace visits which include Roche and GlaxoSmithKline
Year 12/13 UCAS
Unifrog an online resource that allows students to explore work experiences and apprenticeship opportunities, research universities and industries.
Russell Group/Oxbridge / Medics, Vets & Conservatoire support programme
Youth Connexions appointments & drop-in sessions
Information talks and presentations from outside speakers
In-depth and up to date advice on Higher and Degree level apprenticeships for students
Parent support evening on Apprenticeships
JHN Careers fair for Year 12s, including CV, interviews and 'brand me' workshops.
Assessment Center workshop for Year 12s
Access to Higher Education conventions and UCAS Conventions
Careers information via email on apprenticeships and work experience opportunities for Year 12s and 13s
PSHCE resources on apprenticeships and UCAS
All year 12's visit National Apprenticeship show
One to one career guidance
POST 18 OPTIONS
Useful Careers Websites for Parents and Guardians
We understand that it can be difficult to know where to start when discussing possible career pathways with your child. These websites are some we have used in school and have found to be useful, informative and straightforward to use.
General guidance and information on opportunities
Unifrog: www.Unifrog.org
The Unifrog careers platform is an extremely powerful tool and will enable you to search for and find out more about all courses (including apprenticeships, degree courses and local training opportunities) in a way that can be adapted to the needs of your child. Your child already has a login and we can provide one for you separately if you would like. Please contact Mrs Brown for the code. In addition to this, Unifrog enables your child to keep a record of their developing career focussed achievements, so at application time this is in one place.
National Careers Service: https://nationalcareersservice.direct.gov.uk/
This government website is designed to support careers education from the age of 13 onwards.
General Career's information - workplace skills development
Barclays Lifeskills: www.barclayslifeskills.com
Once you have registered you can search a wide range of information on areas of employment experiencing shortages of skilled applicants, the skills and qualities businesses are looking for and the steps young people need to take to help them get employment ready. Some of the activities on this site are used in school in Lifeskills lessons, and there are many thought provoking areas toconsider.
BBC Bitesize: https://www.bbc.co.uk/bitesize/careers
This fun and engaging website is perfect for pupils in KS3 to explore a variety of career options and pathways in a format that they are familiar with. With a wide variety of sections and links to video clips and further information, this makes a great starting point for careers discussions.
Information about Apprenticeships
Apprenticeships Get in Go Far: www.gov.uk/government/news/get-in-and-go-far-with-new-apprenticeships
This site is run by the government and provides information about the full range of apprenticeships available. It also contains useful links to further information and clips for tailored to pupils.
Apprenticeships Applications: https://www.gov.uk/topic/further-education-skills/apprenticeships
This is the government's national website. It lists every apprenticeship that is available at that moment in time. There are application links to enable you to apply directly. The apprenticeships can be sorted by level, and include the rapidly growing sector of Degree Apprenticeships.
Not Going to Uni: https://www.notgoingtouni.co.uk/
This site has a very wide range of information including on all levels of apprenticeships, gap year work, summer schools, industrial placements and university life. It is easy to navigate and is updated frequently. It is possible to sort vacancies by level and field of interest. Information about university applications, courses and events (summer schools, open days, etc…)
UCAS: https://www.ucas.com/
UCAS continues to be the platform that students will use to apply for university. It also allows students to start their search process and research different university courses. It also contains information about university fees and student loans. It also has an apprenticeship section.
Uni Taster Days: https://www.unitasterdays.com/
This is an award-winning directory of all university events - including open days, taster sessions, summer schools, evening lectures and so on. You can search for specific places, or by field of study. It is updated regularly, and includes contacts to apply for the event.
Which? University: https://university.which.co.uk/
Which? University is designed to provide impartial advice and comparisons of universities. It can be helpful to gather advice from independent experts in their field. Within the site there is a specific section for parents and carers: https://university.which.co.uk/advice/advice-for-parents
Public Sector Career Websites
Step into the NHS: https://www.stepintothenhs.nhs.uk/
This site is managed by the NHS and provides a comprehensive guide to applying for any NHS role. It includes videos and guides to the 350 career paths available within the NHS.
Get Into Teaching: https://getintoteaching.education.gov.uk/
This site is managed by the DfE and provides comprehensive coverage about the various routes into teaching. STAGS is part of the Albans Teaching Federation, which provides a variety of Teach Direct placements. Please see their site for details of current opportunities: http://www.albanfederation.com/training-info/
Military Careers
Army https://www.army.mod.uk/careers/
Navy https://www.royalnavy.mod.uk/careers
Air Force https://www.raf.mod.uk/recruitment/
Pupils who are interested in a military career should research the website for that specific area. The forces also recommended that they join their local cadet force, as this will also provide them with up to date information and advice about a military career.
The Police: https://www.met.police.uk/car/met/careers/
http://www.hertspolicecareers.co.uk/
These sites provide information about the various routes into working in the uniformed police, and includes details of the application process for the civilian roles.
Civil Service
National Government https://www.civilservicejobs.service.gov.uk/csr/index.cgi
Local Government https://jobs.hertfordshire.gov.uk/home.asp
JHN Compass Results

Compass Results - 14 July 2022
Benchmark 1
A stable careers programme
Your school has met
100%
of the 17 assessment areas in benchmark 1
Benchmark 2
Learning from career & labour market information
Your school has met
100%
of the 2 assessment areas in benchmark 2
Benchmark 3
Addressing the needs of each pupil
Your school has met
100%
of the 7 assessment areas in benchmark 3
Benchmark 4
Linking curriculum learning to careers
Your school has met
100%
of the 4 assessment areas in benchmark 4
Benchmark 5
Encounters with employers & employees
Your school has met
100%
of the single assessment area in benchmark 5
Benchmark 6
Experiences of workplaces
Your school has met
87%
of the 2 assessment areas in benchmark 6
Benchmark 7
Encounters with further and higher education
Your school has met
79%
of the 6 assessment areas in benchmark 7
Benchmark 8
Personal guidance
Your school has met
100%
of the 2 assessment areas in benchmark 8
The Eight Gatsby Benchmarks

The eight Gatsby Benchmarks are:

| | |
| --- | --- |
| Benchmark | Description |
| 1. A stable careers programme | Every school and college should have an embedded programme of career education and guidance that is known and understood by pupils, parents, teachers and employers. |
| 2. Learning from career and labour market information | Every pupil, and their parents, should have access to good-quality information about future study options and labour market opportunities. They will need the support of an informed adviser to make best use of available information. |
| 3. Addressing the needs of each pupil | Pupils have different career guidance needs at different stages. Opportunities for advice and support need to be tailored to the needs of each pupil. A school's careers programme should embed equality and diversity considerations throughout. |
| 4. Linking curriculum learning to careers | All teachers should link curriculum learning with careers. For example, STEM subject teachers should highlight the relevance of STEM subjects for a wide range of future career paths. |
| 5. Encounters with employers and employees | Every pupil should have multiple opportunities to learn from employers about work, employment and the skills that are valued in the workplace. This can be through a range of enrichment activities including visiting speakers, mentoring and enterprise schemes. |
| 6. Experiences of workplaces | Every pupil should have first-hand experiences* of the workplace through work visits, work shadowing and/or work experience to help their exploration of career opportunities, and expand their networks. |
| 7. Encounters with further and higher education | All pupils should understand the full range of learning opportunities that are available to them. This includes both academic and vocational routes and learning in schools, colleges, universities and in the workplace. |
| 8. Personal guidance | Every pupil should have opportunities for guidance interviews with a careers adviser, who could be internal (a member of school staff) or external, provided they are trained to an appropriate level. These should be available whenever significant study or career choices are being made. They should be expected for all pupils but should be timed to meet their individual needs. |