Destinations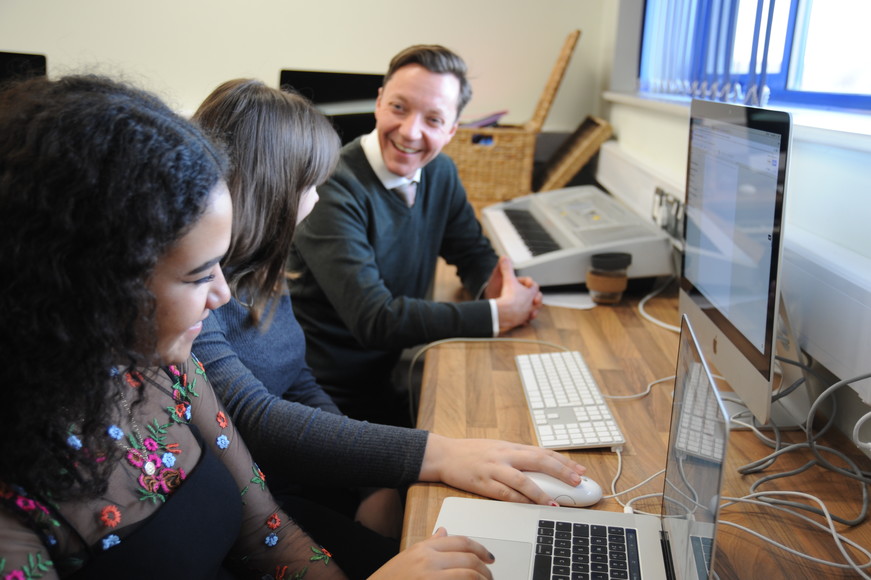 Our aim is to help students and pupils make informed choices at each phase of their education that best suit their aspirations and maximise their chances of future success. Our curriculum is carefully tailored to support pupils in their choices throughout their education from Year 7 to Year 13.
On average, almost 80% of our Year 11 cohort choose to continue their studies with us into Sixth Form. Our individual interviews with pupils from Year 11 indicate that those who decide to continue their studies elsewhere do so for reasons of proximity to their home, as we draw on a very wide catchment area.
Around 95% of our students who apply through UCAS are successful in getting their first choice university; virtually all students gain admission to major universities including a high percentage to Sutton Trust and Russell Group universities as well as Oxbridge, where they study a diverse and fascinating range of subjects and career pathways. Students who chose to follow the apprenticeship pathway are well prepared for this highly competitive route and achieve excellent positions in a wide variety of exciting industries.
Destinations of Year 13 Leavers Summer 2022
| | |
| --- | --- |
| Anglia Ruskin University | Nursing (Adult) |
| Aston University, Birmingham | Biomedical Science |
| Aston University, Birmingham | Construction Project Management |
| Aston University, Birmingham | Engineering and Applied Science Foundation Programme |
| Aston University, Birmingham | Engineering and Applied Science Foundation Programme |
| Aston University, Birmingham | Finance |
| Birmingham City University | Marketing with Digital Communication with Professional Placement Year |
| Birmingham City University | Social Work |
| Bournemouth University | Communication & Media |
| Bristol, University of the West of England | Business and Human Resource Management (with Foundation Year) |
| Bristol, University of the West of England | Filmmaking |
| Brunel University London | Computer Science (Software Engineering) |
| Brunel University London | English with Creative Writing with Placement |
| Cardiff University | Applied Software Engineering |
| Cardiff University | Chemistry with a Placement Year Abroad |
| Cardiff University | Journalism, Media and Sociology |
| Cardiff University | Medical Engineering (Year in Industry) |
| College of Esports | International Esports Business & Digital Marketing |
| Coventry University | Aerospace Technology |
| Coventry University | Business Management |
| Coventry University | Children and Young People's Nursing |
| Coventry University | Physiotherapy |
| Durham University | Economics with Placement Year |
| Durham University | Marketing and Management with Placement Year |
| Edge Hill University | Biomedical Science |
| Falmouth University | Electronic Music & Business |
| Imperial College London | Medical Biosciences |
| Keele University | Pharmacy |
| Keele University | Pharmacy |
| Keele University | Pharmacy |
| King's College London, University of London | European Studies: French Pathway with a Year Abroad |
| King's College London, University of London | Nursing with Registration as a Children's Nurse |
| King's College London, University of London | Nursing with Registration as a Mental Health Nurse |
| King's College London, University of London | War Studies and History |
| Kingston University | Pharmacy MPharm (Foundation) |
| Lancaster University | Psychology and Spanish Studies |
| Leeds Arts University | Animation |
| Leeds Conservatoire | Music (Popular) with Foundation Year |
| Leeds Trinity University | Psychology |
| Leeds Trinity University | Psychology |
| Liverpool Hope University | Criminology and Sociology |
| Liverpool John Moores University | English Literature |
| Loughborough University | Automotive Materials (with placement year) |
| Loughborough University | Engineering Management with a Foundation Year |
| Loughborough University | Finance and Management (with placement year) |
| Loughborough University | Fine Art (with placement year) |
| Loughborough University | Physics with a Foundation Year |
| Loughborough University | Urban Planning |
| Manchester Metropolitan University | Accounting and Finance |
| Manchester Metropolitan University | International Business Management (Foundation Year) |
| Manchester Metropolitan University | International Relations with Mandarin Chinese (with Foundation Year) |
| Manchester Metropolitan University | Sports Marketing Management |
| Manchester Metropolitan University | Sports Marketing Management |
| Manchester Metropolitan University | Zoology with Study Abroad |
| Newcastle University | Biomedical Sciences (Integrated Masters) |
| Newcastle University | History |
| Newcastle University | Mechanical Engineering |
| Newcastle University | Mechanical Engineering |
| Nottingham Trent University | Accounting and Finance |
| Nottingham Trent University | Civil Engineering |
| Nottingham Trent University | Criminology |
| Nottingham Trent University | Law |
| Nottingham Trent University | Real Estate |
| Nottingham Trent University | Sociology |
| Nottingham Trent University | Software Engineering |
| Oxford Brookes University | Accounting and Finance |
| Queen Mary University of London | Computer Science |
| Queen Mary University of London | Computer Science |
| Queen Mary University of London | Computer Science |
| Queen Mary University of London | Mathematics with Finance & Accounting with Professional Placement |
| Royal Holloway, University of London | Classical Studies |
| Royal Holloway, University of London | Geography |
| Royal Holloway, University of London | Law |
| St Mary's University, Twickenham | Primary Education with QTS |
| Swansea University | Geography with a Foundation Year |
| Teesside University, Middlesbrough | Chiropractic (with Integrated Masters, including Foundation Year) |
| The University of Law | Law |
| UCFB | Football Business & Finance |
| UCL (University College London) | Natural Sciences |
| University for the Creative Arts | Fashion Photography (with Professional Practice Year) |
| University of Bath | Computer Science |
| University of Bath | Sociology and Social Policy |
| University of Bedfordshire | Mental Health Nursing |
| University of Brighton | Automotive Engineering (with Integrated Foundation Year) |
| University of Brighton | Pharmacy with Integrated Foundation Year |
| University of Bristol | Law |
| University of Cambridge | Natural Sciences |
| University of East Anglia UEA | Law |
| University of East Anglia UEA | Law |
| University of East Anglia UEA | Marketing and Management with a Year in Industry |
| University of East Anglia UEA | Midwifery |
| University of East Anglia UEA | Pharmacy with a Foundation Year |
| University of East Anglia UEA | Psychology with Placement Year |
| University of Essex | History and Law |
| University of Essex | Sports Therapy |
| University of Exeter | Neuroscience with Professional Placement |
| University of Greenwich | Architecture |
| University of Hertfordshire | Business and Marketing |
| University of Hertfordshire | Business and Marketing |
| University of Hertfordshire | Criminal Justice and Criminology |
| University of Hertfordshire | Early Childhood Education |
| University of Hertfordshire | Environmental Management and Ecology |
| University of Hertfordshire | Interior Architecture and Design |
| University of Hertfordshire | Music Composition and Technology for Film and Games |
| University of Hertfordshire | Nursing (Adult) |
| University of Hertfordshire | Paramedic Science |
| University of Hertfordshire | Primary Education |
| University of Hertfordshire | Sport and Exercise Science |
| University of Hertfordshire | Sports Therapy |
| University of Hull | Computer Science |
| University of Kent | Economics and Management with a Year in Industry |
| University of Kent | Physics with a foundation year (4 years) |
| University of Leeds | Architectural Engineering |
| University of Leeds | Computer Science |
| University of Leeds | English Language and Literature |
| University of Leeds | Fine Art |
| University of Leeds | Music |
| University of Leeds | Sociology |
| University of Leicester | History and American Studies |
| University of Leicester | Law |
| University of Lincoln | International Business Management |
| University of Liverpool | Aerospace Engineering |
| University of Manchester | Accounting with Industrial/Professional Experience |
| University of Manchester | Biochemistry with Industrial/Professional Experience (4 years) |
| University of Manchester | International Business, Finance and Economics |
| University of Manchester | International Management |
| University of Nottingham | Architecture |
| University of Nottingham | Computer Science |
| University of Nottingham | English Language and Literature |
| University of Nottingham | Medicine with a Foundation Year at Lincoln |
| University of Nottingham | Veterinary Medicine |
| University of Oxford | Law |
| University of Plymouth | Architecture |
| University of Portsmouth | Criminology and Criminal Justice |
| University of Portsmouth | Cyber Security and Forensic Computing |
| University of Reading | Real Estate |
| University of Sheffield | Ecology and Conservation Biology |
| University of Sheffield | Korean Studies with Japanese |
| University of Sheffield | Sociology |
| University of Southampton | Computer Science with Foundation Year |
| University of Southampton | History |
| University of Southampton | Medicine |
| University of Surrey | Economics |
| University of Surrey | Psychology |
| University of Sussex | Mechanical Engineering (with an industrial placement year) |
| University of the Arts London | Acting and Performance |
| University of the Arts London | Costume for Performance |
| University of the Arts London | Interior Design |
| University of Westminster, London | Finance and Business Management |
| University of York | Nursing (Adult) |
| University of York | Politics with International Relations |
| | |
| --- | --- |
| Apprenticeship/training/continuing education/Gap Year/ Employment | 55 |