Saint John Henry Newman Biography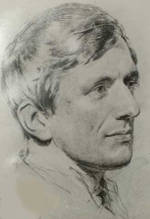 Saint John Henry Newman was born on 21st February 1801 the eldest son of a London banker. His family were ordinary church-going members of the Church of England. They had no strong religious tendencies, but John Henry did develop a love for the Bible . He went to a private boarding school in Ealing for eight years, where he experienced a spiritual conversion which was to determine the rest of his life as a quest for spiritual perfection.
As a young man, he continued his studies at Trinity College, Oxford and came under the influence of other colleagues who taught him to think critically about theology. He was a very successful student and read widely. He was elected to a coveted Fellowship of leading Oriel College. He was ordained and worked as a curate and later a Vicar of the University Church and had a charismatic influence on his parishioners and members of the community. He worked as a College Tutor and later began to research many theological works which put him at the forefront of religious writers. His studies of the Fathers of the Church led him to realise the importance of the resurrection, the incarnational and sacramental nature of the Christianity and the Church and reinforced his love of the Bible, his experience of personal conversion and the importance of a critical theology.
A series of events within the Church of England caused him to question his spiritual path within the Anglican faith. He withdrew from Oxford and for three years led a very strict religious life, praying for light and guidance. In 1845, he knew his path lay within Catholicism and on 9th October of that year, he was received into the Roman Catholic Church.
His choice to convert to Catholicisim meant he was ostracized by his family and friends. Undeterred, he set out to study for the priesthood and he was ordained a priest in Rome. He returned to England and founded the first Oratorian Congregation in Birmingham, with a second in London and established the Oratory School in Birmingham. In 1851 the Bishops of Ireland decided that there should be a separate University for Catholic students. John Henry became its founder and first Rector, establishing what is known today as University College Dublin.
On his return to England, John Henry faced much opposition, misunderstanding, suspicion and resentment by some in authority, and many of his projects including a Catholic magazine, and a new translation of the Bible met with failure.
In 1879, Pope Leo XIII made John Henry Newman a Cardinal in tribute to his extraordinary work and devotion. At his death in 1890, it was said that he had done more than any other person to change the attitude of non-Catholics to Catholics. Between 15,000 to 20,000 people lined the streets to pay their respects at his funeral. The Cork Examiner noted 'Cardinal Newman goes to his grave with the singular honour of being by all creeds and classes acknowledged as the just man made perfect'.
Reflection
"God has created me to do Him some definite service. He has committed some work to me which He has not committed to another. I have my mission – I never may know it in this life, but I shall be told it in the next.
Somehow I am necessary for His purposes, as necessary in my place as an Archangel in his – if, indeed I fail, He can raise another, as He could make the stones children of Abraham.
Yet I have a part in this great work; I am a link in a chain, a bond of connexion between persons. He has not created me for naught. I shall do good. I shall do His work. I shall be an angel of peace, a preacher of truth in my own place, while not intending it, if I do but keep His commandments and serve Him in my calling."
John Henry Newman