Prayer, Worship and the C Team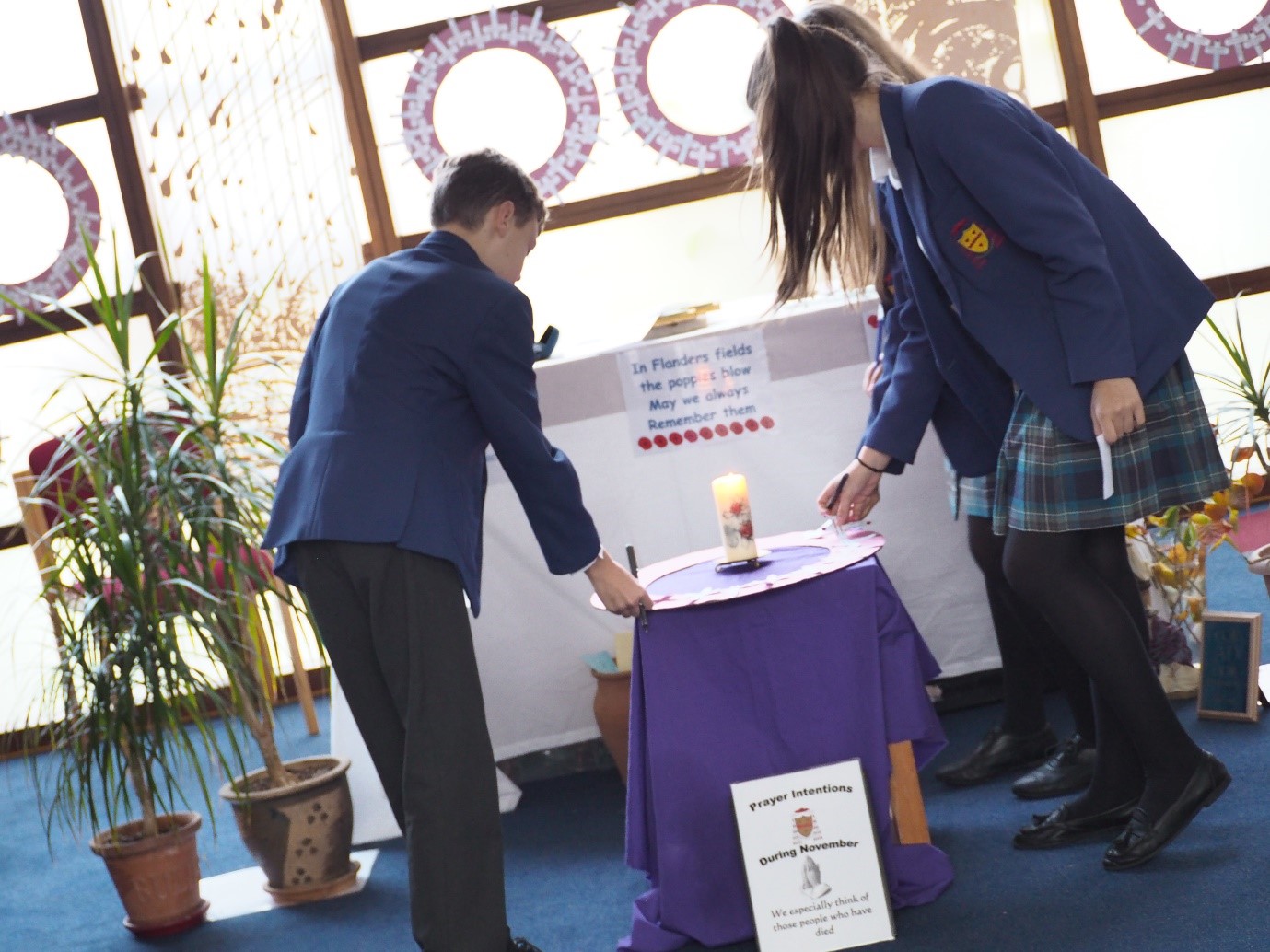 Prayer and Worship
The Chaplaincy at The Saint John Henry Newman Catholic School is at the centre of the school community and offers support and nurturing to pupils, students and staff in their mission to become the person God created them to be.
Chaplaincy focuses on two key areas of school life:
Liturgy, prayer and worship
Putting faith into action
Our staff Chaplaincy Team, ordained Chaplain and pupil led 'C-Teams' work together to build Christ's kingdom in our very own school community.
Our students have an integral role to play in the preparation, participation and evaluation of Masses, liturgical worship, services of reconciliation, retreats and acts of prayer and reflection. Through music, readings, liturgical dance and reflection, pupils and students are at the centre of every worship opportunity and we hope to continue the tradition of commissioning more Eucharistic ministers from our student body this year.
Our pupil led C-Teams are proud, proactive and committed to making small acts with great love to change the world, and with over 100 pupils and students being commissioned at our school Feast Day Masses, ideas are shared and developed weekly to live out the example of Christ in both our school, local and overseas communities.
In the midst of the busy school day you will find two areas of sanctuary for all pupils, students and staff. Firstly our Chapel, open every day for all to visit. Frequently booked by individual classes and tutors, years 7 and 8 have a chapel lesson every year and opportunities for reconciliation are offered during Advent and Lent. Our priest chaplain, Fr Philip Law, invites the whole community to Holy Hour, over Friday lunchtime and staff prayer on a Thursday morning is a welcome time of peace and reflection in the middle of the busy week. The second is our Peace Garden which is in the heart of our school. Opened and blessed by Bishop Paul McAleenan, it offers a place of rest, stillness and sanctuary at the heart of our vibrant community.
Moments of stillness can also be found elsewhere in the school. Daily prayer is shared every morning in tutor groups and year group Masses are scheduled in throughout the year. We are fortunate to be supported by our Deanery priests, one each being assigned to every year group, who frequently visit, celebrate Mass with their assigned year and support the Pastoral teams across the school.
To keep up to date with the work of the Chaplaincy, the C-Teams and for all recent liturgical celebration, fundraising and campaigning news please see the weekly section of the Headteacher's newsletter.
Please see here for the Prayer Resources this week.
---
The C-Team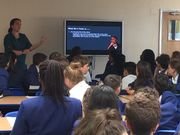 Over 100 pupils and students were commissioned in our Feast Day Masses by Bishop Paul McAleenan, Fr Norbert Fernandes, Dean of Stevenage and Fr Jimmy Garvey.
---
JHN Feast Day
The theme of our feast day celebrations was 'A link in a chain' and we continue to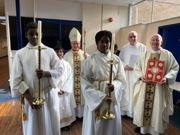 forge links with our fellow Newman schools; this year by asking them to share their prayers with us on a link in a chain, and contributing to our Feast Day Video.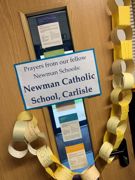 ---
Year 7 Friendship Days
Year 7 start the academic year by spending a day out of school to build relationships and reflect on the start of a new school journey. A day at Wymondley Woods Activity Centre, led by our Year 12 student leaders, provides an opportunity to learn about the school, their form saint and one another, all centred around the theme of 'friendship'.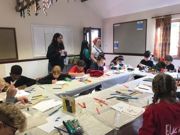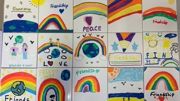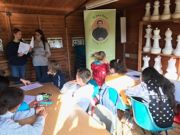 ---
#Red Wednesday
Once again the C-Teams led the school in rememberin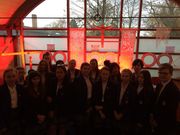 g and showing solidarity with the displaced and the persecuted for #redwednesday. Pupils were encouraged to accessorise their school uniform with items of red to show their support for refugees around the world. Mass was celebrated in our own chapel for all those who cannot and are not allowed to attend and celebrate Mass.
---
Remembrance Service
This year's season of remembrance was marked with the sale of poppies and a poignant remembrance service centred around the theme of peace. Readings, prayers and our reflective musical accompaniment drew members of our school, parish and local community together in prayer and remembrance.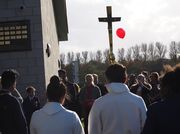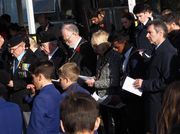 ---
Advent Charity Appeal
For our most recent Advent appeal the school supported local homeless charity Feed Up Warm Up, and saint charity of St Teresa, who operate drop in and reach out initiatives to those without shelter in our local communities of Stevenage, Hitchin and Letchworth. Each year group were charged with a different category of item to source for the most vulnerable during the winter months. This ranged from soap to socks, and donations were presented to the charity before Christmas.
---
Christmas Fundraising
On Christmas Jumper Day this year we held a 'All things Christmassy Day'. Pupils were asked to make a donation of £2 to wear their christmas jumpers, reindeer antlers, festive socks, ties and yuletide accessories.
This year all monies raised went towards supporting a former student of the JHN School. Lucy Priest left JHN in 2018 having completed her GCSE's and A levels. Whilst taking exams is stressful for the majority of students for Lucy it was made even more challenging due to suffering from anorexia, depression, OCD and anxiety.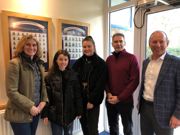 Lucy was offered a place at a specialist treatment centre in London named Orri. This treatment is radically different to what Lucy had experienced before and has the possibility of changing her life. Unfortunately Orri is not currently available on the NHS and as a result is expensive. We often say that you never stop being a part of the JHN family and as such this was our chance to provide a life changing opportunity for a member of our community.
---
Carol Singing for KiSS
Our Music students entertaining patients on the wards of Lister Hospital, only up the road from where they can be found carol singing at Sainsbury's to fundraise for KiSS during Advent!
---
Our Wider Community
Throughout the year, we work hard to maintain our close, strong relationships with pupils from our feeder primary schools. They are invited to many of our school events, attending the matinee performance of our school productions and our community Mass. Last year's Community Mass focused on the theme of Superheroes and our feeder primary schools were invited to create their own superhero capes as their offering during Mass.
---
In June 2019, members of the school's Chaplaincy Team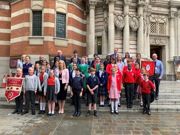 attended Cardinal Vincent Nicholl's Adoremus Mass at Westminster
Cathedral. We travelled as a deanery group with our feeder primary schools.
---
We continue to grow our links with our Christian friends in Stevenage Old Town as we make our annual visit to the Christian churches of Stevenage, Old Town. Year 8 pupils visit the High Street Methodist Church, Bunyan Baptist Church, Holy Trinity (CofE) Church and the Church of the Transfiguration Catholic church, as part of their RE unit of study on the Church in Britain.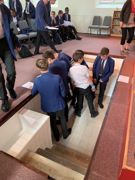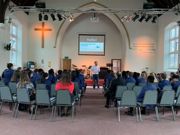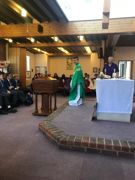 ---
Links with our parishes go from strength to strength and this was especially evident on Education Sunday, where members of the school community proudly wore their uniforms to Mass.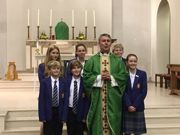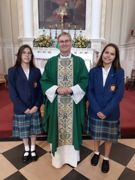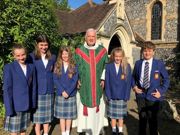 ---
In the curriculum....
Year 9's are covering Judaism as part of their curriculum in RE and we were kindly hosted by the Missouri synagogue in St Albans for a few afternoons so that all the groups could visit and learn. This was a really interesting opportunity to understand the basis of the traditions of our Church.
Our Key Stage 4 curriculum was enriched by a visit from members of the Ten:Ten Christian theatre company who provided two thought provoking workshops for Years 9 and 10, exploring the themes of love and relationships