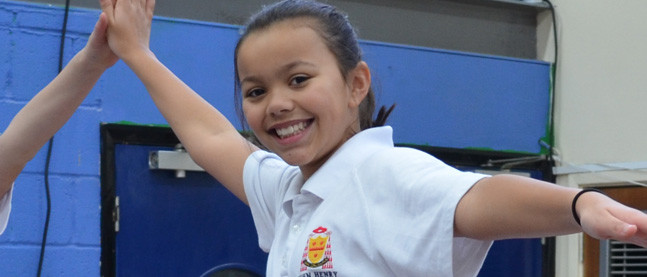 Curriculum statement: Physical Education
Physical Education is about gaining competence in, and understanding the promotion and living of, a balanced, active, healthy lifestyle. As well as promoting physical benefits, we seek to develop the mental benefits of a life-long passion and enthusiasm for physical activity and sport. Physical education is not about winning and losing: it is about building enjoyment through participation in a variety of activities. Through this, we support the National Curriculum purpose of providing pupils with the opportunity to build character and embed values such as fairness and respect, both for themselves and for others. Within PE there is a great opportunity for pupils to demonstrate their God-given, unique talents that make them an individual, and our aim is to develop these talents, nurture them and multiply them by providing new and exciting activities.
Curriculum Aims:
Our aim is to provide pupils and students with the opportunity to sample a wide variety of sports and activities as well as to excel in some. We want pupils to develop mastery orientation and a lifelong love of physical activity, encouraging them to understand the mental and physical benefits that exercise provides. We would like pupils to develop their "PE" language and be confident when using this in order to demonstrate their knowledge and understanding of key concepts, and be able to share this with other people they liaise with now and in their futures. We would like pupils and students to understand how PE fits in to the workplace, what career paths can come from an education in sport and how this can be used in their futures.
Curriculum Features:
Pupils are provided with the opportunity at Key Stage 3 to participate in a wide variety of activities including individual activities and a wide range of games activities. Pupils are assessed on the key concepts of the National Curriculum such as developing tactics and strategies, the performance of individual activities as well as team activities, analysis of themselves and peers as well developing the opportunity to take on other roles such as leadership and officiating. Through these different assessment criteria, pupils are given the opportunity to develop their confidence and excel, not only in the performance aspect but also within other areas. They learn the importance of developing critical thinking through analysing the work of themselves and others in activities such as gymnastics and dance, analysing data through fitness testing as well as gaining transferable practical skills through practical activity.
Pupils are provided extensive opportunities to compete against other though inter-house competitions and extra-curricular activities. This leads to developing competence and expertise in activities as well as the opportunity to officiate in them, applying the skills that they have learnt in lessons. Inter-house competitions within lessons have proven to be very popular and pupils show excellence in these areas.
Pupils are taught how PE fits into society through theory lessons taught as part of their curriculum. This helps to provide them with the deeper key concepts that they will need to study PE further or to take forward in their futures. They are introduced to sport in society, the psychology of sport and the anatomy of PE in order to develop their knowledge and key concepts further. These elements are commonly seen as informative and as making PE relevant to everyday life.
This leads to Key Stage 4 PE, where pupils are given the opportunity to study further via GCSE PE, GCSE Dance or OCR Sports Science. Pupils draw on their previous knowledge to gain deeper and more meaningful understanding of PE as a whole through theory and practical lessons. For GCSE Dance, the pupils have been taught key concepts at Key Stage 3 with regards choreographing their own pieces as well as understanding the stimulus of dance, and this allows pupils the opportunity to blend artistic practice with physical activity, giving dance its unique place in the National Curriculum. By providing these different courses for pupils, we ensure that pupils can learn the content in the process that works best for them ensuring that pupils have the opportunity to excel in a manner that suits them best.
All pupils in Key Stage 4 continue to follow a core games programme where they participate in an options programme, selecting sports and activities that they will gain the most benefit from. This can be regular activities such as football or more contemporary activities such as yoga and fitness training. Pupils also get the opportunity to put their leadership skills into practice through our very popular leadership programmes including netball, football and dance leaders. Pupils learn the lifelong skills of leadership and thrive on putting them into practice through working with local primary schools at a variety of festivals.
At Key Stage 5, we offer both Btec Sport as well as A level PE. This provides a wider choice for pupils to develop their expertise. Both of these courses allow pupils to access further and higher education in university-run courses including Sports Physiotherapy, Sports Data Analysis and Sports Psychology and, increasingly popular, the developments of Sports Technology.
Co-Curricular Experiences:
The programme for extra-curricular is extensive, providing the opportunity to compete in a wide variety of activities. This includes local schools leagues and cups, county competitions in activities such as athletics and swimming, and national competitions in a wide variety of activities including futsal and gymnastics. We strive for excellence and regularly enter a number of teams into higher level competitions in order to ensure we cater for the pupils at the highest level of sport. Pupils and students get the opportunity to participate in sports and activities within the school's Enrichment Programme and sixth form students are provided with timetabled PE lessons to maintain the emphasis on them leading healthy and active lives as provided throughout their journey throughout school. Pupils and students have the opportunity to engage in trips organised by the department including at A level, a trip to Hatfield House to play Real Tennis; sports tours abroad such as the netball and hockey trip to Holland; visits to the university sports village to help with informed decisions about futures; opportunity to observe sport at the highest level, and talks within school from professionals involved in a sports career including physiotherapists and sports psychologists.
What follows is a current summary of the intended subject curriculum content in each year of the key stage. It highlights the key knowledge and skills intended for learning, and some of the ways progress in the curriculum is to be assessed. It clarifies the key questions students should be addressing and gives links to help students and families to develop this learning further.