Life Curriculum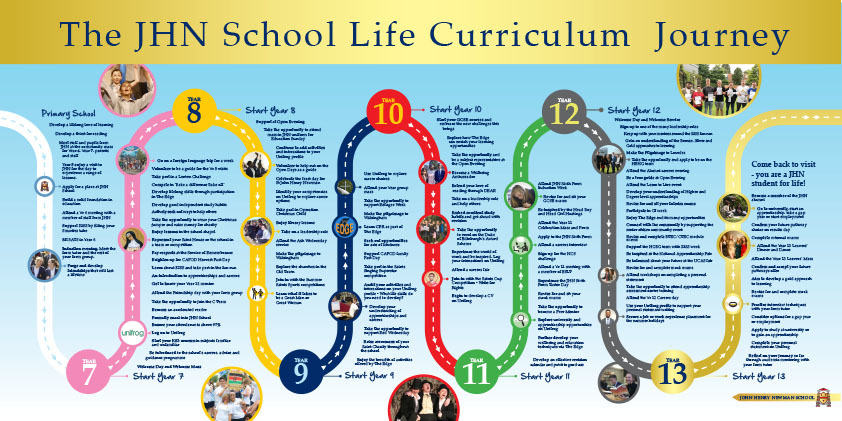 At The Saint John Henry Newman Catholic School, we take a 'whole-school' approach to engendering life skills in our young people. Life skills education is embedded in the day to day curriculum, through enrichment activities, and through dedicated career and PSHCE programmes. Our life curriculum develops skills such as confidence, resilience and ability to work with others. These values our embedded in our school ethos, assemblies, lessons, school clubs and societies, and in staff-student and staff-parent relationships.
Many studies have been done that show non academic skills in childhood including self-control, self-perception and social skills are strong predictors of adult outcomes including employment, wellbeing and physical and mental health.
We make sure that all pupils and students experience a well-planned, targeted (where necessary) Life Curriculum.
A structured and well developed Careers and Higher Education programme that starts in Year 7.
A PSHCE programme with a vision that intertwines it with all other aspects of school life. It reflects the statutory RSHE guidance and also our pupils own wishes and has developed into a programme that covers three themes: Mind, Body and Wider World. These themes have been mapped to provide each pupil with a 7-year journey, each year the theme being built upon and developed to reflect the changing needs of the different age ranges and the changing nature of the society we live in.
Enrichment activities which are beneficial in developing children's wider skills and designed to complement what happens in the classroom. Activities such as debating, volunteering and team sports provide real-life situations where students can learn to develop relevant skills such as teamwork, responsibility and perseverance with the help of teachers.
Below is an example of the enrichment activities we ran last year
| | | |
| --- | --- | --- |
| Sewing | Astrophysics | Big Questions |
| Duke of Edinburgh | Trampolining | Literacy through film |
| Set design | Photography | Board Games |
| Volleyball | Sustainability | Craft |
| Tap Dancing | Sign language | Power hooping |
| Exploring pop culture through film | Digital literacy | Korean |
| Cross Stitch | Lacrosse | Debating |
In addition, we run before school, lunchtime and afterschool activities
We run a variety of Extended Learning opportunities throughout the year to add to the excitement of our curriculum, and to stimulate deep learning provided through extended projects, particularly in Sixth Form. The projects dovetail with our curriculum to ensure coherent and powerful learning experiences across all years. Furthermore, an enrichment week in June sees students in all year groups partake in a wide range of activities, many of which involve trips within the region and internationally.
There is an extensive range of trips to all parts of the globe. A team building experience is offered early in the academic year to all new year 7 students. In addition to the annual MFL trips to France and Spain, opportunities to go on residential visits to northern France or on a Ski trip to Austria are very popular and well subscribed. These compliment the extensive programme of subject specific field trips for examinations students at KS4 and A-level incorporating Biology and Geography field trips, Art Gallery visits and theatre productions.