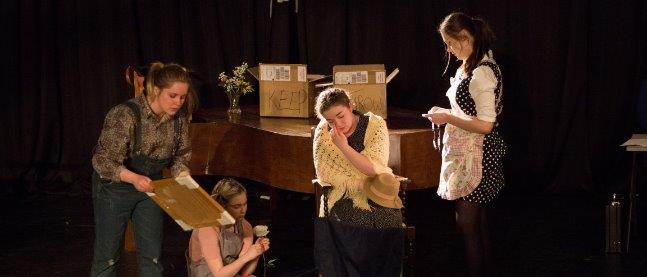 Curriculum Aims: Drama
The key aims in drama are to provide every young person with a skill set which allows them to enhance their imagination, creative thinking and performing in a safe and supportive environment. Regardless of background, ethnicity and gender, our ability to create and tell stories is what makes us human. Therefore, the exploration and enhancement of performance skills is essential in drama. Through guidance and support we explore the use of physicality and voice as well as more intricate skills such as the art of listening on stage to create real and developed interactions. Drama also has links to the world outside the classroom and equips young people with personal life skills for them to succeed. Empathy, negotiation skills and teamwork are at the heart of the subject and ensures that drama is not taught in a vacuum but instead helps to enhance essential life skills. Through the exploration of a wide range of cultural and historical topics, our young people have an opportunity to challenge and question the world around thus enabling them to realize their God given mission by discovering who they are what they can become.
Curriculum Features:
The curriculum has been formed to build on the pupils' knowledge from KS3 through to KS5. This is done to provide transferable skills to KS3 pupils who might end their journey with the subject at the end of year 8 and to also ensure a solid knowledge base for those continuing their studies at KS4 and 5. The curriculum has also been designed with both practical and theoretical aspects in mind. This is to ensure that the 'why' and the 'how' that we create is explored just as much as the 'what'. At KS3 we focus on a specific topic or skill within each unit of work. These include studying the drama strategies such as still images, split scenes and narration which underpin all of our work in all key stages, the consideration of tone, the exploration of historical and topical events, styles of theatre and script work. Each activity is specifically identified under Attainment 1= Speaking and Listening, Attainment 2= Reading and Attainment 3= Writing in accordance with English in the National Curriculum. Progress is measured in relation to Creating, Performing and Responding. Each unit of work begins with a practical exploration of the new topic and culminates in a group performance and reflective evaluation in order to gauge pupil understanding and performance skills development. The enhancement of interpersonal skills also has significant importance. These are referred to as the '6 C's' namely confidence, cooperation, commitment, contribution, communication and concentration and are identified in lesson one of Year 7 and revisited during each unit of work in order to monitor development in these areas. At KS4 and 5, a number of integral dramatic forms and concepts are revisited as part of a spiral curriculum in accordance with the Edexcel exam board at GCSE and A Level. Students also study the work of different theatre practitioners such as Stanislavski, Artuaud and Brecht, analyze published plays and more technical aspects of production. A more detailed study of the use of voice and movement also takes place to enable the development of individual performance skills, which are showcased in our public, examination performances. We pride ourselves on our connections with the pupils and students. The very nature of the subject allows for explorative discussions, the sharing of thoughts and ideas and also the chance to truly escape into our own creative world. We push our students to test the boundaries of what is achievable in performance and to constantly question the role of theatre.
Co-Curricular Experiences:
The drama department is very focused on providing a range of extra-curricular opportunities for students and pupils. These aim to build upon skills learnt in the classroom but to also enhance their sense of belonging within the school. Weekly Drama Club sessions take place for pupils and students of all ages and culminates in a summer showcase of their work to an audience of invited friends and family. The annual, whole school musical enables pupils and students to audition and perform as part of an eclectic cast and in turn, provides a glimpse of professional performing standards and expectations. As well as theatre trips throughout the year, we have a number of links with professional theatre companies who visit to perform and conduct.
What follows is a current summary of the intended subject curriculum content in each year of the key stage. It highlights the key knowledge and skills intended for learning, and some of the ways progress in the curriculum is to be assessed. It clarifies the key questions students should be addressing and gives links to help students and families to develop this learning further.
KS3
At Key Stage 3 students have Drama once a week and are able to experience a subject like no other. In Years 7 and 8 there is an emphasis on providing the students with the opportunity, through carefully selected units of work, to develop a set of skills to enable them to create effective pieces of theatre. They also have the opportunity to enhance those transferable skills which are so vital in today's society – something that we refer to as the '6 C's'. Students are assessed using three criteria, namely Creating, Performing and Evaluating. In Year 9, there is more of an emphasis placed on gaining knowledge with students exploring the history of theatre as well as selected theatre practitioners. Students are encouraged to use this depth of knowledge in order to create theatre with substance and meaning and which ultimately enables an audience to consider the world in which we live.
KS4
At KS4, the students follow the Edexcel specification. The course is made up of three components. Component 1 is entitled 'Devising' and requires the students to work in groups in order to devise a piece of theatre using a selected stimulus. The students also document the process in the form of a written portfolio. Component 2 is entitled 'Performance from Text', in which the students perform two extracts from selected published plays in front of a visiting examiner. Component 3 is entitled 'Theatre Makers in Practice'. This is a written exam in which the students will be asked to write as an actor, director and designer in relation to a selected published play. They will also answer two questions on a professional production, which we will see together.
KS5
The KS5 course is mirrored with the KS4 course. Component 1 is again entitled 'Devising' and requires the students to create a group piece that uses a specific extract from a selected published play for their stimulus. The students are also required to select a theatre practitioner that will help them to create a clear style for their piece. A written portfolio, which charts the process, makes up the remainder of the component. Component 2 is entitled 'Text in Performance.' Here the students will perform an extended extract from a published play as well as a monologue from another selected play, all to a visiting examiner. Component 3 is the written exam, in which the students will be asked acting, design and directorial questions in relation to two selected texts as well as a professional production which they will go and see.