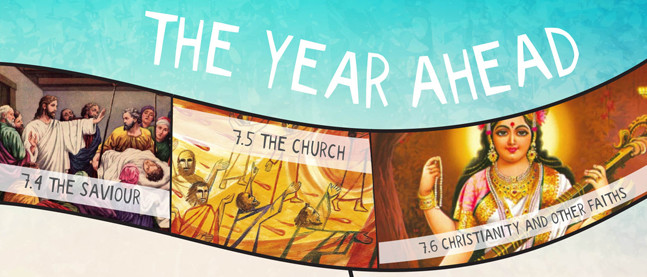 Curriculum Statement: Religious Education
Religious Education at The Saint John Henry Newman School should be the "core of the core curriculum" (Pope St John Paul II), fulfilling its mission to educate the whole person in discerning the meaning of their existence as well as inviting pupils to respond to the message of Christ. It is fundamentally important that all pupils approach the study of RE with the same demand and rigour as all other subjects. However, RE is not only concerned with intellectual knowledge but with emotional and effective learning. Without RE, pupils would be deprived of an essential element of their formation and development which helps them attain a vital harmony between faith and culture, fostering personal and social responsibility which contributes to the Common Good.
Curriculum Aims:
To present, engagingly, a comprehensive content which is the basis of knowledge and understanding of the Catholic Faith.
To enable pupils to deepen their religious and theological understanding and to communicate this effectively.
To present an authentic vision of the Church's moral and social teaching so that pupils can apply their faith in contemporary culture and society.
To raise pupils' awareness of the faith traditions of other religions in order to respect and understand them.
To stimulate pupils' imagination and provoke a desire for personal meaning as revealed in the truth of the Catholic faith.
To enable pupils to recognise the relevance of Gospel Values and apply these to their faith and, to their own lives and relationships
To enable pupils to relate the knowledge gained through Religious Education to their understanding of other subjects in the curriculum. For example, to gain an understanding of the relationship between science and religion when studying the creation story or religion and history when looking at changes in religious practice
Outcomes To create religiously literate and engaged young people who have the knowledge, understanding and skills, appropriate to their age and ability, to think spiritually, ethically and theologically (Religious Education Curriculum Directory, p.6)
Classroom experience The relationships between teachers and pupils in RE lessons are strong, pupils want to learn and work well with each other and with their teachers. We foster a positive learning environment in which pupils are put at the centre of their learning. They engage with their study through paired and group discussions where pupils are encouraged to voice their opinion and everybody is listened to. We aim to teach using a variety of creative activities where learning is enriched by the use of sacred texts, art, architecture, religious artefacts and music. Pupils are provided with regular summative assessment in each unit of study with detailed feedback from teachers which adds to the pupils' knowledge and understanding and provides an opportunity to reflect and respond to make improvements to their work.
Curriculum Features:
All curriculum content is mapped to the Religious Education Curriculum Directory (review expected from Sept 2020) as directed by the Catholic Bishops' Conference of England and Wales. Content is structured around four strands: Revelation, The Church, Celebration and Life in Christ. We have a carefully designed spiralised curriculum, underpinned by key concepts such as the Incarnation and Salvation, which enables pupils to build upon and, secure powerful knowledge. Retrieval practice is incorporated into curriculum design as is the interleaving of prior knowledge so that pupils can understand new concepts in the light of what they are familiar with. Almost all of the pupils are Catholic and therefore throughout the programme of study there is a solid foundation in the traditional teaching of the Church supported through links with Scripture, the Catechism and the wisdom of Catholic men and women. These are at the centre of exploring both our collective and, individual Catholic identity. Based on the teaching of the dignity of the human person, our learning programmes incorporate regular opportunities for pupils to explore key issues relating to Catholic social teaching, such as poverty, discrimination and climate change. This fosters the development of personal and social responsibility towards the greatest good for all persons which pupils take out into the world.
Key Stage 3 Learning Programmes are loosely based on 'The Way, The Truth and The Life' study scheme, however, these have been adapted to mirror the Church's liturgical calendar as well as building on the learning of our pupils from feeder primaries in Key Stage 2. Our curriculum develops three types of skills, at least one present in every lesson: Knowledge and Understanding, Engagement and Response and, Analysis and Evaluation. These skills are accessed in a variety of ways from quick fire quizzes extended written work and class discussion and debate.
Key Stage 4 Our GCSE curriculum fulfils the requirements of the Diocesan Bishop by delivering 50% Catholic Christianity content and 25% Judaism (Edexcel RS Route A). The remaining 25% we have selected to study Philosophy and Ethics to best meet the Curriculum Aims. The GCSE includes units on Beliefs, Teachings and Practices of both Catholic Christianity and Judaism. The Philosophy and Ethics units build on introductory topics in Years 8 and 9 and incorporates Level 3 resources to stretch pupils and as a 'hook' into A Level (Christianity, Philosophy and Ethics).
Key Stage 5 Core Religious Education delivers a bespoke Level 2/Level 3 programme to the entire Sixth form. There is an emphasis being prepared to take their faith out with them into the world as religiously literate and caring individuals who can use their knowledge and understanding for the benefit of all.
Co-Curricular Experiences:
The department regularly works with both the school Chaplin and the deanery priests to offer pupils an opportunity to learn more about the Church and to celebrate the Sacraments. Teachers take the pupils to the school chapel to participate in worship and to learn more about Catholic practice. Priests visit the classrooms to talk to the pupils about their role and answer pupil's questions.
We also invite the Head boy and Girl team into lessons to share their experience of their time in Uganda and to teach them about the work of kiss, enhancing our work on social justice.
Pupils participate in retreat opportunities such as the Friendship days in Year 7 and a pilgrimage to Walsingham.
Every year the pupils in Year 8 visit the Churches of different Christian denominations in Stevenage Old Town. We have also made links with a local Synagogue and a Hindu temple. We are currently working with the History department to provide a number of cross- curricular activities, including a trip to Krakow and Auschwitz.
What follows is a current summary of the intended subject curriculum content in each year of the key stage. It highlights the key knowledge and skills intended for learning, and some of the ways progress in the curriculum is to be assessed. It clarifies the key questions students should be addressing and gives links to help students and families to develop this learning further.
KS3
In KS3 we build a foundation for pupils in the beliefs and morals that are uniquely found in the Christian faith. As a Catholic school, we feel that it is vital that lower school students are taught the teachings of the Church, along with building their knowledge in the Scriptures.
We also feel it is important that pupils are aware of the beliefs and practices of other major world religions. We hope this will help them to become open minded young adults and respectful of other faiths. Pupils are assessed on two strands of attainment; Learning about Religion and Learning from Religion. Formal assessment takes place within every unit of study and pupils are awarded an attainment level for each assessment as well as an overall, summative Key Stage 3 level, in accordance with the Catholic Bishops Conference of England and Wales.
KS4
At Key Stage 4, pupils are taught in mixed ability classes and will complete their GCSE course at the end of Year 11.
Teaching at GCSE level begins in the Autumn Term in Year 9. The course consists of 3 papers; the Study of Catholic Christianity, the study of Judaism and Philosophy and Ethics (Catholic Christianity). Students will learn about various beliefs and teachings, practices, sources of Wisdom and Authority and forms of expression and ways of life within Christianity and Judaism.
The course will challenge students to explore and discuss topics that are relevant to today's world, understand Catholic teaching on these matters, and reflect on their own opinion.
Pupils are internally assessed at the end of each topic on their knowledge and understanding and their ability to evaluate by considering their own views and the views of others about relevant issues.
KS5
Students in Years 12 and 13 follow the WJEC Eduqas A Level in Religious Studies. The course includes 3 components; the study of Christianity, Philosophy of Religion and Religion and Ethics.