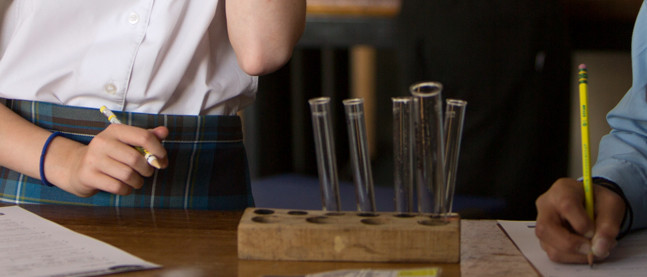 Curriculum Statement: Science
The Science Department aims to ensure that every student at JHN is able to reach their full potential in this dynamic subject. Science plays a part in all aspects of life and our aim is that every student is able to apply the science they have learnt in the classroom to today's changing world. A dedicated team of specialist teaching staff share their wide knowledge and enthusiasm for Science to inspire a love of the subject and a lifelong love of learning. Students are encouraged to view the world from a scientific perspective and use their knowledge to analyse whether the information they encounter is valid. Discussions surrounding ethical and moral issues in Science provide them with the tools they need to make their own judgements about scientific issues.
Curriculum aims:
broad and ambitious curriculum that challenges students;
encourage critical thinking and excite scientific curiosity;
students should enjoy learning through a variety of dynamic teaching approaches;
encourage all students to take risks, recognise that this is essential for learning, and be willing to learn from their mistakes;
students understand the procedures involved in scientific methods and apply these in practical investigations;
recognise how and why scientific models develop over time;
foster a supportive atmosphere where students are confident about asking questions, sharing their views, respect the views of others and respond to feedback;
use of appropriate scientific vocabulary to express knowledge and ideas;
use of mathematical skills to manipulate and analyse data;
students are aware that they can progress to further study in science and careers related to Science;
Curriculum features:
carefully sequenced, demonstrating linking and progression to allow students to make links between areas of the curriculum;
use of practical investigations and demonstrations to help understanding of key concepts;
curriculum resources developed and shared by experienced subject specialists with a wide range of expertise;
use of research to develop effective teaching strategies;
incorporation of Catholic social teaching to inform ethical standpoints;
feedback given on assessments to help pupils move forward;
.
Extra-curricular experiences:
Science is developed outside of lessons through Science and STEM clubs to allow students to explore topics in more detail and to carry out more 'fun' practical activities. Links with careers in Science are developed through participation in the 'I'm a scientist- get me out of here' programme where pupils have the chance to talk to researchers about their work and careers. During British Science week speakers visit and pupils take part in activities and competitions. Sixth form students can take part in the Industrial Cadets Gold Award scheme in conjunction with an industrial partner and take part in the Biology Field trip.
What follows is a current summary of the intended subject curriculum content in each year of the key stage. It highlights the key knowledge and skills intended for learning, and some of the ways progress in the curriculum is to be assessed. It clarifies the key questions students should be addressing and gives links to help students and families to develop this learning further.
KS3
Pupils in Year 7 are taught in form groups which are mixed ability groups and are then placed in sets for Year 8. These sets are organised within 2 bands with 4 sets in each band. The scheme of work follows the Exploring Science - Working scientifically series published by Pearson so that pupils have all the Science skills required in order to start their GCSE courses. Pupils have six hours of Science teaching a fortnight throughout the Key Stage. Pupils are assessed on both written and practical skills assessments using Steps of progress.
KS4
GCSE pupils follow the AQA Science courses. Most pupils will take Combined Science: Trilogy (8464). Some pupils will follow the Biology (8461), Chemistry (8462) and Physics (8463) GCSE courses offered by AQA. Examinations for all courses will be sat at the end of Year 11.
KS5
Biology
At Key Stage 5 the Biologists follow the Edexcel Biology B (9BIO) course. This course teaches the biological content in a wide range of areas such as genetics, biodiversity, ecology and immunology. It spans 10 topics and is examined with three written papers at the end of a student's study. Alongside their studies the students complete 16 core practicals that are written up in a Practical Log book and are examined in the written papers where appropriate.
Chemistry
At Key Stage 5 the Chemists follow the OCR Chemistry B (Salters) (H433).
Chemical concepts are introduced within a relevant context, with students studying a series of units based on contemporary issues in chemistry. Students study the chemistry in a spiral way so that chemical ideas, introduced in an early topic, are reinforced later on.
Physics
At Key Stage 5, Physicists are given the opportunity to further their academic knowledge of the world that surrounds them. They follow the content led approach of the OCR Physics A specification (H556). As learners progress through the course they will build on their knowledge of the laws of Physics, applying their understanding to solve problems on topics ranging from sub-atomic particles to the entire universe. For Alevel only, the Practical Endorsement will also support the development of practical skills.
BTEC
From September 2016 Year 12 students will study the new BTEC Nationals in Applied Science course which has been redesigned from its original model. The course is studied at Diploma (Double) level and consists of approximately 50% internal assessment; the remaining 50% of the course will be externally assessed with formal written exams (for all students) and an exam board-devised task.
Course link for Year 12 from Sept 2016:
view course link btec nationals